Sierra Leone: Curfew imposed after deadly protest leaves six policemen dead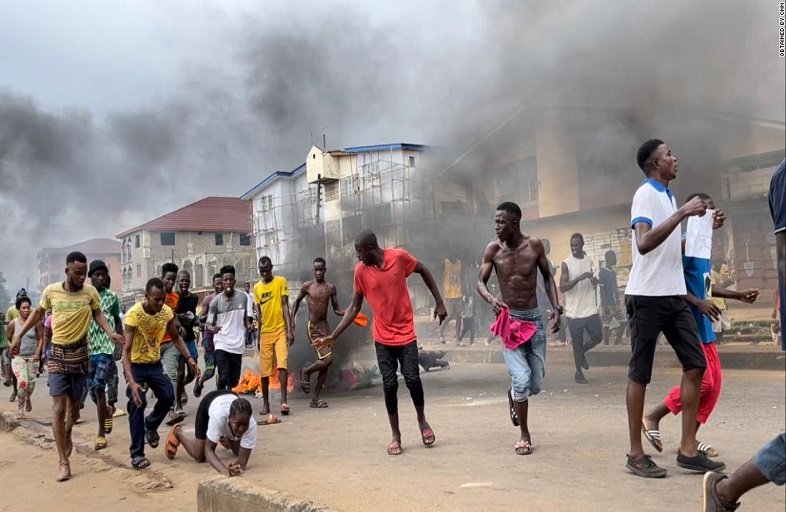 The head of police reported on Thursday that about six police officers were slain during anti-government demonstrations on Wednesday in northern and western Sierra Leone.
Police Inspector General William Fayia Sellu reported that four officers were killed: two in the capital, Freetown; three in the northern town of Kamakwie; and one in the northern city of Makeni.
While demonstrators tossed rocks and set tires on fire in the streets out of aggravation over the worsening economic situation and other issues, the government of Sierra Leone previously acknowledged that deaths had occurred but did not specify how many people perished.
In an effort to stop the violence, the West African nation, which has been dealing with growing inflation and a fuel problem, imposed a nationwide curfew starting at 3 p.m. local time (1500 GMT).
Sierra Leone removes three zeros from its bank notes
"As a government, we have the responsibility to protect every citizen of Sierra Leone. What happened today was unfortunate and will be fully investigated," said President Julius Maada Bio on Twitter.
"People are upset about the country's justice system which is sickening, daily price rises and economic hardship," said Daniel Alpha Kamara, a university student.
A Reuters correspondent also observed another civilian body on a street in eastern Freetown in addition to the three bodies at the mortuary. The police chief and spokeswoman, meanwhile, were unavailable for comment.
More so, social media images depicted massive crowds of demonstrators and mounds of burning tires in several locations throughout the capital city of Freetown.
In other video, a group of young guys were seen hurling rocks down a roadway covered in whitish smoke.
He claimed that the fighting began at about 10:30 a.m. local time when he noticed tear gas clouds forming outside his dorm room.
"These unscrupulous individuals have embarked on a violent and unauthorised protest which has led to the loss of lives of innocent Sierra Leoneans, including security personnel," said Vice President Mohamed Juldeh Jalloh in a video address.
In a tweet, the regional political and economic organization ECOWAS stated that it deplored the violence and urged everyone to "respect law and order" while also calling for the arrest and prosecution of those responsible.
According to Augustine Sorie-Sengbe Marrah, a constitutional lawyer and governance activist, there is a growing sense that the government is not helping the average person who is struggling, which is one of the many causes for the rising unrest.
"There has been little empathy from the central government to encourage folks that they see them suffering and that they understand these are tough economic times," he said.
Rising costs for necessities in Sierra Leone, where the World Bank estimates that more than half of the country's 8 million people live below the poverty line, have further added to the country's long-standing dissatisfaction.
According to an internal letter extensively circulated online, the national security coordinator ordered the armed forces to be ready to support the police from August 9 to 12 and warned of a "possible violent security situation" on Tuesday.