2023: Those with certificate issues can't rule Nigeria – Bukola Saraki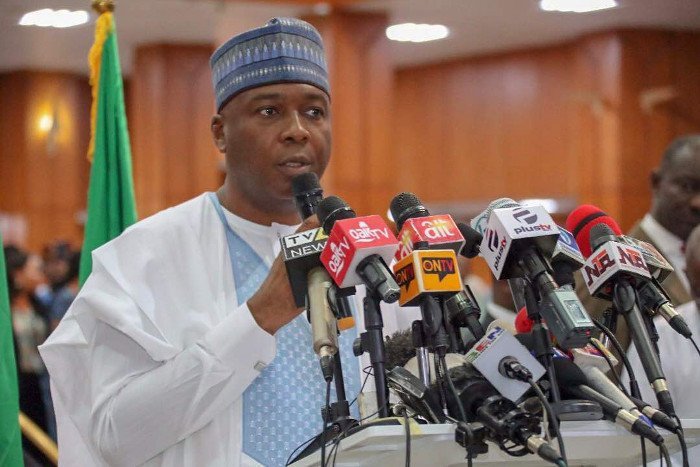 Former Senate President, Bukola Saraki, has sniped Bola Tinubu, APC presidential candidate over issues surrounding his primary and secondary school academic certificates.
Speaking in Ilorin, Kwara state capital, at a summit themed "Character as Leadership" organized by Malam Bolaji Abdullahi Omoluabi Foundation as part of the International Youth Day programme, Saraki noted that, people without character should not put themselves forward to rule Nigeria.
"How can people who are struggling over basic issues of certificate aspire for the position of leadership anywhere in Nigeria? he quizzed.
Adding that, "One of the core ingredients of leadership has to do with character. Nigeria has been ruined and the youth especially must be part of the process to elect those that will fix it to secure a bright future.
"My appeal to the youth is all about your future. In 2015, the rate of unemployment was only 8 percent, today, it is over 42 percent, in 2015, a dollar was N200 then but now N700. Cost of food has risen astronomically and rice is now over N30,000 from N10,000. We are all suffering because of choice of leadership."
The former Kwara state governor also faulted the citizens for Nigeria's predicament by choosing the wrong leaders.
"It is time we stop blaming the leaders because the followers also have roles to play, we know what is right and we know what is wrong, but we choose to do what is wrong.
Saraki noted that, "I was in the Senate, I knew what was wrong, I could have joined people to do what was wrong but I did what is right, it is time to do what is right.
"Though it's difficult, I know, but if we do what is right, by the end of the day, we'll get there. I want to appeal to all of us here, let us do what is right, let us stand for competence.
"There is no point for us coming to celebrate if we cannot take decision on choice of leadership, it is time for us to look at the choice of our leaders and when somebody comes out to vote, we should ask whether he has good character, courage and competence," Saraki said.