JUST IN: APC unveils Shettima as Tinubu's running mate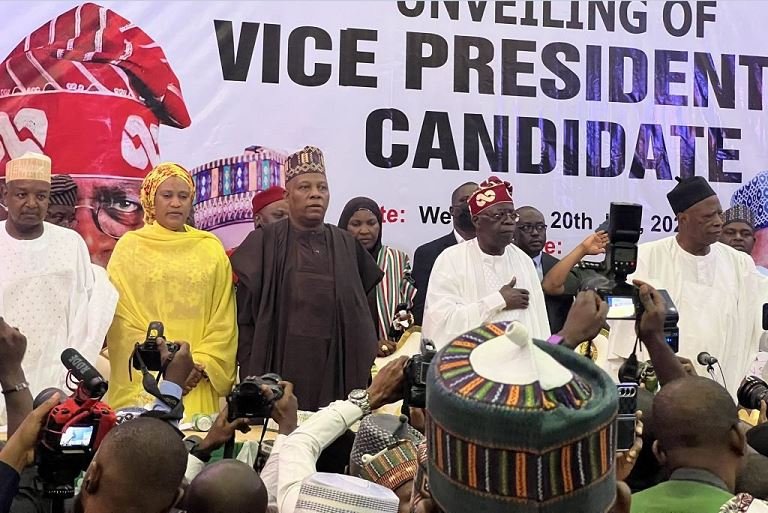 The All Progressives Congress (APC) has formally unveiled Senator Kashim Shettima as the running mate to Bola Tinubu, the party's presidential flagbearer in the 2023 election.
At the unveiling ceremony at the Shehu Musa Yar'Adua Centre in Abuja, the APC national chairman, Abdullahi Adamu, and other executives of the party were present but President Muhammadu Buhari was not at the event.
Tinubu's decision to pick a fellow Muslim as his running mate has generated division among Nigerians many of whom believe that the candidate and his party are insensitive to the religious colouration of the country.
Reacting to a Muslim Muslim candidate, the Christian Association of Nigeria (CAN) urged Christians to reject their candidature.
In a statement on June 10, Barrister Joseph Bade Daramola, CAN's National Secretary, said same religion candidature is a threat to Nigeria's delicate peace and unity.
"CAN demands that a balance of both faith practitioners be considered in the choosing of presidential candidates' running mates," he stated. We do not subscribe to Christian/Christian or Muslim/Muslim lottery tickets.
"Politicians can talk politics, but we've already announced our position." Any party that tries to run on the same religion ticket will be defeated. This is not the year 1993. Even when we have a united Muslim/Christian ticket, the church continues to suffer.
"Can you imagine what it'll be like if we had two Muslims in power?" Nigeria's current constitution supports religious harmony. So, any political party that wants to run on a Muslim/Muslim ticket does so at their own risk. CAN is just issuing a forewarning, but will issue a categorical statement if our warning is ignored."
Shettima, a two-term governor of Borno state served as Senator for Borno Central since 2019.