JUST IN: Osinbajo's convoy not involved in accident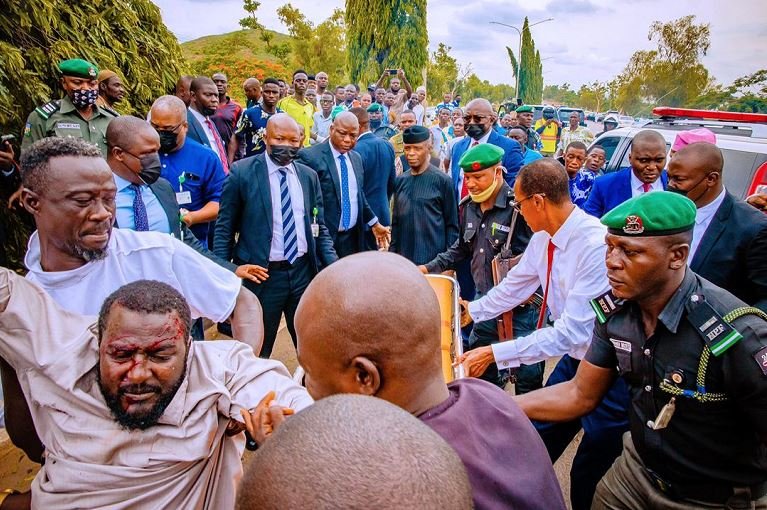 The convoy of Vice President Yemi Osinbajo was not involved in an accident as earlier reported by some blogs and social media accounts on Monday.
According to eyewitnesses, the Vice President's security and medical teams assisted in removing an accident victim from a crushed vehicle after the vehicle somersaulted.
The victim was reportedly transported to Airforce Base hospital. "It was a single accident. The car had somersaulted on the opposite lane and was impaled on a tree," the witness said.
The spokesperson to Vice President Osinbajo confirmed that the VP stopped his convoy to offer help to the victim of the accident.
"On his way to the airport this morning, VP came across a road traffic accident, stopped to lend assistance, and ensured victim was taken to the hospital with VP's convoy ambulance.
"He then proceeded on his trip and is now in Ondo State heading to site of yesterday's attack in Owo," Akande said in a tweet.
Similarly, the Prof Yemi Osinbajo campaign media team has issued a statement to stress that he was not involved in an accident.
"This is to notify the general public that Vice President Yemi Osinbajo and the leading APC presidential aspirant, was not involved in any accident this morning.
"Vice President Osinbajo was on his way to Owo, Ondo state over the dastardly terrorist attack of yesterday when his convoy met an accident scene on airport road, Abuja. He immediately stopped his convoy and asked his ambulance to take the victims to the hospital and report to him on the state of the accident victims. He immediately proceeded to board his flight to Akure.
"His media office would issue a comprehensive statement very soon," Richard Akinnola, chairman, PYO media council said.