House of Assembly: Ekiti residents' protests imposition of candidates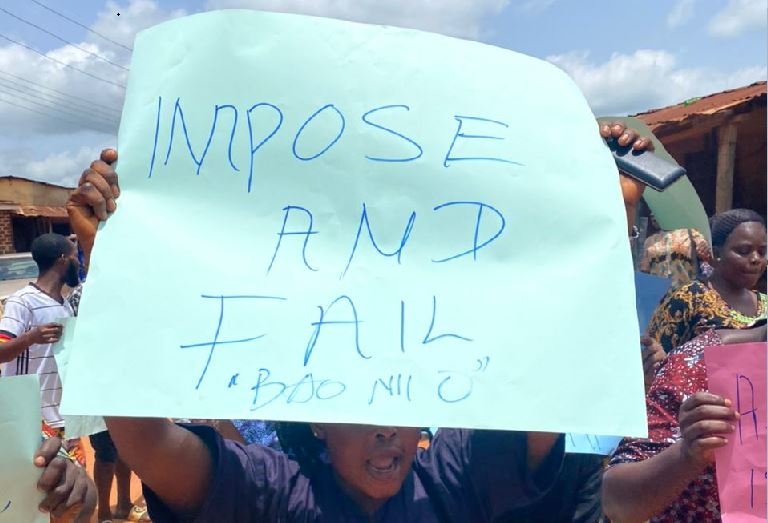 Ekiti residents' on Friday protested against imposition of anointed candidates for the Ekiti State House of Assembly.
Residents in Ekiti state protested the imposition of candidates by Ekiti State APC, who they also accused of hoarding All Progressives Congress (APC) Expression of Interests and Nomination forms.
At one of the many protests against the imposition of anointed candidates in Ekiti South West Constituency 1, Ilawe Ekiti, the voters noted that the incumbent House of Assembly member, Honourable Yemisi Ayokunle, was imposed on the constituency.
They said that Ekiti APC denied other aspirants the access to buy forms at the APC state secretariat.
A source close to the State APC said the APC state chairman, Paul Omotoso has contacted all party executives across all the 16 LGA to find a solution to the problem.
A protester, Samuel Ayodele, who spoke to Chronicle NG explained that some of the candidates that Governor Kayode Fayemi seeks to impose have been abysmal to say the least.
"We the people of Ekiti South West Constituency 1 have tried to air our grievances to the governor and party chairman but they are not listening, in fact, there is no avenue to do this, that is why we are protesting.
Another protester who wanted to be anonymous said, "If you cannot buy the forms, how can you contest the primaries? If you do not contest the primaries, how do you emerge candidate? This action by Ekiti APC is cruel by denying aspirants access to forms," she said.
Chronicle NG reports other aspirants who were at the APC secretariat also expressed frustration at the lack of Expression of Interest and Nomination Forms.
As at Friday, 6th May, some aspirants at the party secretariat in Ado Ekiti were waiting to buy forms, but were told to come back on Monday May 9 with deadline for purchase of forms May 10.