Osinbajo's street credibility by Bright Okuta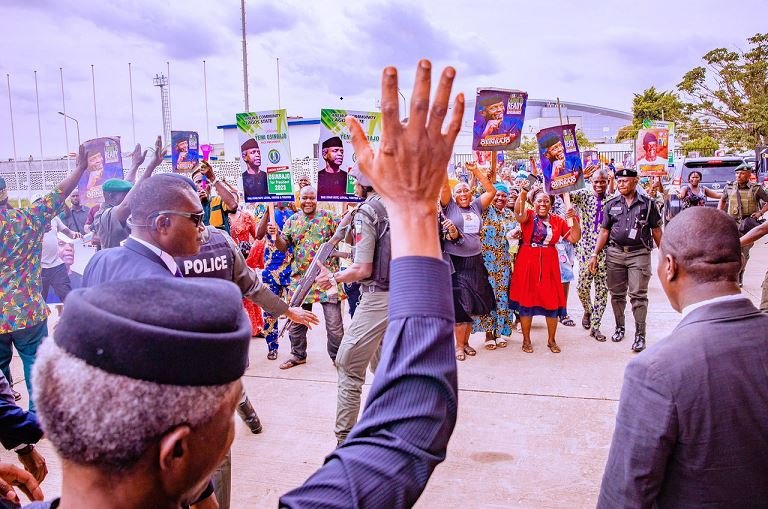 By Bright Okuta
I have been following, with keen interest, the various consultations and meetings of political aspirants at the local, state, and national levels and I found something really interesting.
In the past weeks, Nigeria's social media space has been awash with news, photos and videos, of political aspirants' consultations, engagements and meetings.
Politicians are traveling all over the country consulting and meeting party delegates, community leaders, and other political bigwigs about their different ambitions, expecting an endorsement.
At the presidential level, one thing that differentiates the incumbent Vice President, Prof. Osinbajo's style of visits from other presidential aspirants' is that he meets and connects with ordinary Nigerians on the streets even before and after his consultations. He possesses an unusual form of street credibility that always gratifies my heart and unarguably that of many Nigerians.
Of course, this period is primarily for consultations and engagements of delegates, that is, it is not yet time for state-to-state campaigns. But regardless, Osinbajo takes his time to walk around acknowledging cheers from mammoth crowds and relating with them in a genial manner. This is unusual and it strikes a chord with a lot of Nigerians who I have engaged in political conversations, expressing their satisfaction about his candidacy.
I remember also, that this street credibility has been the hallmark of his public engagements ever since he became a public officer. For example, during his many visits to markets to supervise the social investment schemes, he meets and relates with market women, traders, and others around. He had chats with them about sales, challenges they encounter in their micro-businesses, etc. He also did same during his family chats, one of his initiatives that sees VP Osinbajo in private interactions with citizens in their homes and local communities.
There is no doubt that Osinbajo's security detail sometimes find it difficult to control the overwhelming crowd who try to catch a glimpse of him or come closer. The love is real, the connection natural, and the chemistry between the Vice President and the people is obvious. Little wonder Ordinary Ahmed Isah of Brekete family nicknamed him 'Star Boy.'
This is so unlike the regular Nigerian politician who is afraid to be around crowded Nigerians to avoid being lynched.
At this point, Nigeria deserves a president who knows the problem of ordinary citizens. A president unafraid to relate with every Nigerian he comes across anywhere. A president with empathy and sympathy for the citizenry. One who is loyal to the people, and who puts Nigerians first as his utmost priority. A president who has the fear of God and uncommon love for the people!
The 65 year old professor ticks these boxes!
Bright Okuta writes from Abuja and can be reached via Twitter: @brightokuta