Osinbajo: Respected by all, loved by many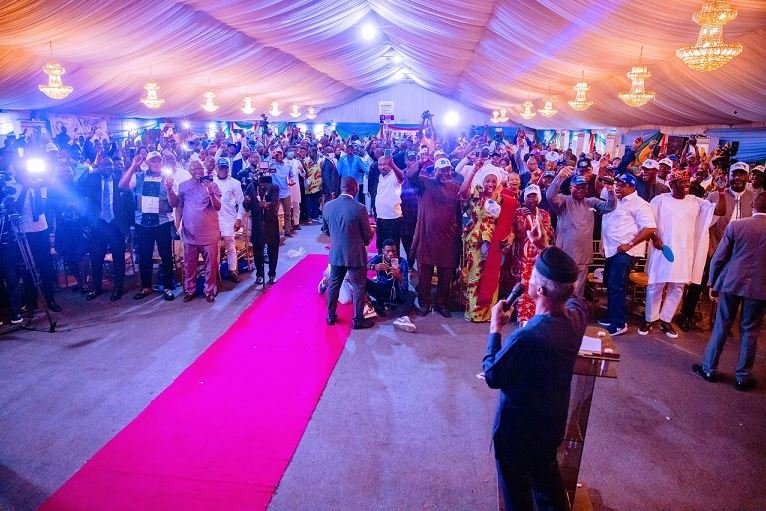 By Adesuyi Aderele
Ahead of the All Progressives Congress (APC) presidential primaries, Vice President Yemi Osinbajo has met with delegates from every state of the federation, paying courtesy visits to traditional rulers as well.
There is no gainsaying that there is no other presidential aspirant who experienced such outpouring of love, admiration and respect Osinbajo enjoyed during these visits. His audience sang, cheered and even tagged him "Mr. President".
His unparalleled leadership qualities to lead Nigeria to greater heights have also been recognized by political as well as traditional leaders.
Casting our minds back to Professor Yemi Osinbajo's stint as Acting President for 51 days when President Muhammadu Buhari was away on a medical trip to the United Kingdom, a period that showed just how capable and in control he will be should he eventually become the President in 2023.
Contrary to arguments by some political commentators about how quiet and sidelined the Vice President Osinbajo was in this administration, he was able to make accurate and timely decisions.
One of which was the sack of the then Director-General of the State Security Service, Lawal Daura for unconstitutional entry into the National Assembly. This served as a wake-up call to other public office holders.
Osinbajo visited Maiduguri, capital of Borno State, after insurgents bombed it for an assessment of the destruction, where he immediately ordered a reconstruction. Upon his return to the FCT, he ordered a relocation of the Service Chiefs to quickly put an end to the attacks.
Also, Osinbajo's unscheduled visit to the Murtala Muhammad International Airport in Lagos caught many by surprise as he was there to inspect facilities and interact with staff concerning their welfare and that of travellers. This visit was followed by the sacking of 10 directors of the Nigerian Civil Aviation Authority (NCAA).
These are but a few of his actions as Acting President in just 51days. Not forgetting the steady rise in the World Ease of Doing Business rankings which saw Nigeria rise to 131 on the index. If he could achieve so much within a short period, the thought of a four-year tenure should leave Nigerians excited.
However, the power to become APC's flag bearer lies in the hands of the delegates. I seize this opportunity to challenge every delegate to look inwards and closely into the Curriculum Vitae of each aspirant for the best decision for the sake of Nigerians.