Osinbajo is a loyal and committed deputy – Ganduje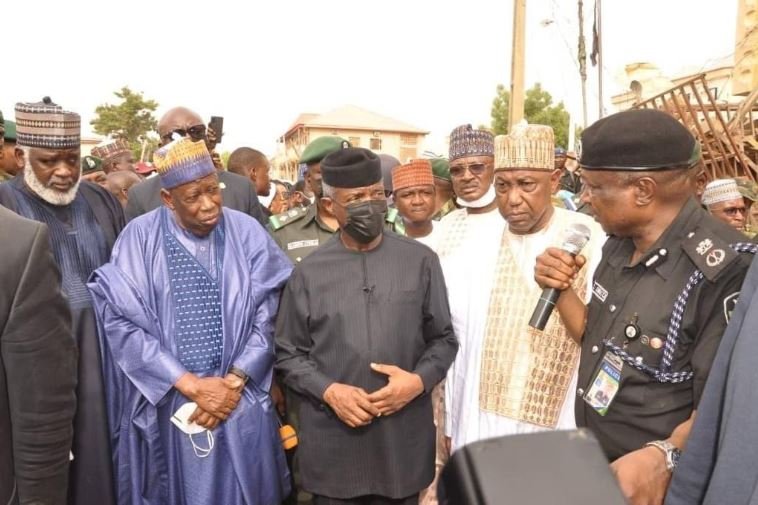 Governor Abdullahi Ganduje of Kano State has described Vice President Yemi Osinbajo as a loyal and committed deputy to President Muhammadu Buhari.
Ganduje made the remark on Tuesday when Prof. Osinbajo visited Kano for a number of engagements including a visit to the scene of an explosion in Sabon Gari and a meeting with APC delegates in the state ahead of the party's presidential primaries.
Speaking to the qualities of Prof. Osinbajo, Governor Ganduje said, "Vice President is a committed second in command, very loyal with capacity. You and me, Your Excellency, we know the value, the challenges of being a deputy, and I congratulate you for being a successful deputy to the President of the Federal Republic of Nigeria.
"Mr. Vice President, I also want to thank you for editing and writing the foreward of the book 'Deputizing A Governance In Nigeria,' written by myself, being a deputy governor for eight years and a governor for seven years, so I know all it takes to be a deputy. So the Vice President, I have to tell you that you are a successful Vice President," Ganduje said.
"Your Excellency, I want to congratulate Mr. President and your good self and members of the APC for successfully holding a successful party convention in Abuja. We have a formidable executive of our party and now we are heading to the presidential primaries after holding various primaries of different elective offices in our separate states," Ganduje said.
Speaking on the issue of zoning, Governor Ganduje added, "The Vice President, it is our belief here in Kano that zoning is an important factor, even though, zoning is not contained in our constitution, I mean the constitution of the Federal Republic of Nigeria, or in our party constitution, but zoning is important. Zoning is an issue that we designed in order to win elections.
"In this stage of our development, especially as a developing country, where we have a lot of diversity, our strength to achieve unity in diversity, I think zoning is an important factor in our political development. Your Excellency, we are happy to inform you that without mincing words, without doubt, that the President of the Federal Republic of Nigeria come 2023, should come from the southern part of this country.
"We believe in that, we respect that and we shall vote for that. Your Excellency, thank you for coming to Kano which I can say is your home because you have come several times. We assure you that our delegates, even though they know you because of the position you are holding, but Your Excellency today, they are your masters and you are their servant. So they are here to listen to you and also appreciate you," Ganduje said.
Prof. Osinbajo had on April 11 declared to run for the Office of the President and has since embarked on consultations with delegates across Nigeria.