Bola Tinubu and the religion card by Dan Abubakar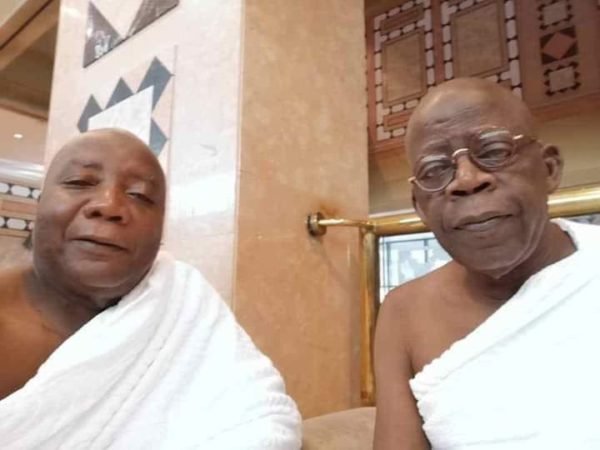 By Dan Abubakar
Such are the ways of politicians that the uninitiated can be befuddled by the effortless ease with which, like amoeba, they contort, cringe, twist and turn and deform to fit any pattern that would appear as one with their target audience.
It often verges on the ridiculous, provoking much mirth or scorn, depending on the prior disposition to the contortionist.
Social media was filled last Easter with images of two presidential aspirants either carrying the cross or simulating being nailed to one to mark Good Friday. Their action, retorted not a few, appeared to be more a mockery than a representation of faith given that the politicians in question could hardly be associated with any kind of piety or godly sacrifice. But there you are.
Former Ekiti state governor, Ayo Fayose, in his own inimitable way chose to be photographed wolfing down heavy mounds of amala at a popular buka in Abuja after he had formally registered his presidential aspiration. That image was at least befitting of the chief proponent of 'stomach infrastructure' and to whom the common touch comes naturally.
There are several other examples of politicians seeking to project a particular image, no matter how ridiculous, to win the attention and support of diverse segments of the electorate. One iconic example is that of Kano State governor, Dr. Umaru Ganduje, who in a fight for his political life in 2019, was pictured not in a work man's clothes but in a cavernous baban riga (which tailors in Kano have since made a fashion statement: they ask whether you want a Ganduje ie baban riga with pockets deep enough to stuff valuables in ) and bearing on his head a load of gravel at a building site.
Save for the rather confounding and totally unprincipled engagement of President Goodluck Jonathan with those who demonised and betrayed him in 2015 (and which really ought to engage everyone's attention as to whether there is a deliberate strategy using the APC to blow up the political process and sow chaos) no metamorphosis in recent times has been as remarkable as that of APC presidential aspirant, Asiwaju Ahmed Bola Tinubu, who in the past few months appears to have found religion. He was always believed to profess the Muslim faith but he never wore this on his sleeve. Not any more.
Not long after he came back from a long medical sojourn abroad, and still in obvious discomfort, he was pictured at Juma'at sitting on a high chair and observing the necessary rituals of prayer.
More recently he was photographed with a sizeable number of followers inside the Ka'ABA apparently to pray for divine intervention for his presidential ambition. An indication that the Umrah experience was novel for most of them was the campaign photograph of Alhaji Tinubu held aloft by some in the crowd, an action which was said to have nearly provoked a diplomatic incident since such overt political display was forbidden on that Holy ground.
In the manipulation of faith for a religious purpose, politicians pay scant regard to the wisdom in leaving matters of faith to the individual and the fact that only Almighty Allah can judge the hearts of men or the sincerity of their beliefs.
The way the Tinubu crowd is engaged in the intrusion of politics into faith in order to win support is quite disconcerting. It can stoke sectarian fires, or deepen religious divides in a country that is already observed to be at near tipping point of chaos. And it is a surprising ploy to engage in by anyone who seeks to win minds and hearts across the board in order to have success at the polls.
If the calculation is to make a play for votes from the Muslim majority in the APC coalition in the primaries, the candidate and his followers must know that given the fraught state of the country, engaging in such a game of divide in order to rule is to court disaster for us all.
Tinubu's acolytes began with a rather mischievous projection of Christian theology by seeking to paint Prof Yemi Osinbajo in the colours of Judas Iscariot because he dared to aspire to the presidency at the same time as Tinubu who he had served – by all accounts, diligently – as commissioner for justice in the government of Lagos State. They predicated their demand for a slavish fealty of Osinbajo to Tinubu on the premise of the circumstances of the former's nomination for Vice President by the latter, the exact contours of which are still in dispute.
Osinbajo's nomination came at the last minute after Tinubu was schemed out by Buhari with the encouragement of Rotimi Amaechi and Bukola Saraki, among others, on the quite plausible ground that a Muslim-Muslim ticket was not going to fly.
One would have thought that after the huge amount of flak Tinubu's publicists received for the Judas Iscariot analogy they would leave religion well alone and seek other grounds to make their point. But evidently not for some of our politicians as these are desperate days and anything and everything would do to be thrown in to win an election.
Another of those publicists under the assumed name of Biodun Ladepo has now come out with an incendiary piece that painted Nigeria in the colours of Lebanon where sectarian divisions have rendered the country practically ungovernable.
He wondered how a Christian pastor could be accepted to govern by the country's Muslim population and concluded: "the optics of a practicing pastor as president of Nigeria will be unacceptable to the rest of Nigerians and will signal the beginning of the end of the country as a secular state."
Haba! Such abstruse reasoning is quite easily dismissed based as it is on very circumscribed understanding. It is necessary to state a few facts.
First, Nigeria is not a secular state but a multi-religious one.
Secondly, for the preponderant majority of ordinary Nigerians who take their faith seriously and are enamoured of those who do, their attitude is: to each according to their faith. They often humour those who play cynical games with religion at the time of politics but they are not deceived. Were they easily fooled there is no way Dr. Goodluck Jonathan, a well- known practising Christian, could have trounced Alhaji Atiku Abubakar, or General Muhammadu Buhari to win the 2011 presidential elections. And is it not the same Jonathan that many in the constituency Tinubu is playing to today are clamouring to have return to the presidency and even buying the APC presidential nomination form in their pursuit of this agitation?
Thirdly, any genuine Muslim knows you really cannot separate the faith from politics. Sermons in many mosques concentrate on pure matters of faith but they are also often laced with a large dose of political matters. Where you can take exception is when such preaching is incendiary stuff that can promote inter or intra faith hatred.
Thus those who want to make hay out of the Vice President being a pastor must be called out not just for their ignorance but the intended obvious mischief.
If they insist on taking credit for Osinbajo's nomination as Vice President they should now be asked why they nominated someone who they knew to be a pastor in the first instance. In the event the added attraction for Buhari who was regarded as something of an irredeemable Islamic fundamentalist was Osinbajo's status as a pastor.That fact does not appear to have adversely affected Osinbajo's work or his relationships, as someone of the Muslim faith who has worked closely with him over the last seven years has publicly attested.
It is perhaps a sign of the desperation of the Tinubu camp and an acknowledgement of the credible threat which they obviously believe Osinbajo poses that they are willing to try to transform a non-issue – precisely because it is untrue – into a major point of contention.
Unfortunately, the audience they seek to cultivate is not likely to be impressed, perhaps well aware that the smokescreen of Osinbajo's faith is a ploy to draw attention away from the thick, dark cloud that surrounds their man's history.
Whatever happened to his previous advocacy of restructuring, devolution of power and fiscal federalism? These are areas his people could productively take up to shift the debate away from the proclivities that threaten to tear us apart. They can thus deploy their well-resourced energies to help frame the terms of discourse along healthy lines so there can be resolution of issues that would make this country survive – and work.
Dan Abubakar wrote from Abuja