Osinbajo is the man the cap fits – Gov Inuwa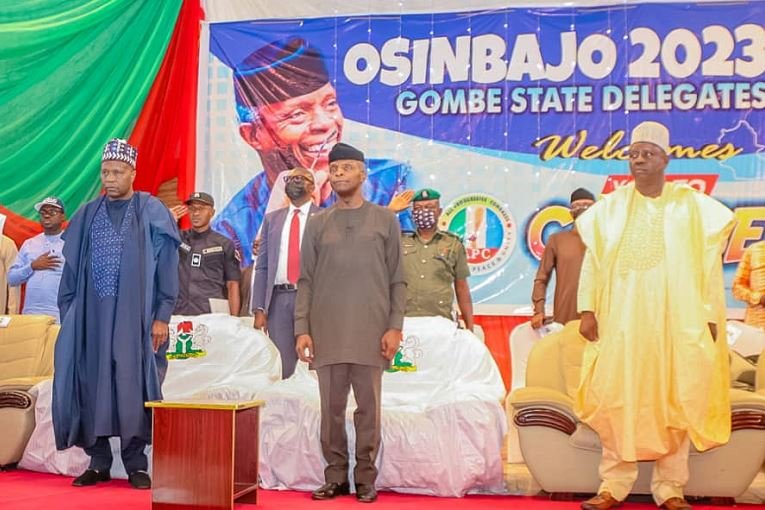 Governor Inuwa Yahaya of Gombe state says Vice President Yemi Osinbajo is the man who the cap fits to succeed President Muhammadu Buhari and take Nigeria to the 'Next Level'.
Speaking on Monday at the palace of the Emir of Gombe, His Royal Highness, Alhaji Abubakar Shehu Abubakar lll, the governor said that Gombe state is going to back the Vice President at the All Progressives Congress (APC) primaries and beyond.
Addressing the Emir, he said, "This time around he (Osinbajo) has come to interact with our delegates in preparatory to the primaries of our party, the All Progressives Congress and Insha Allah, the convention that will produce him by the grace of God as the next president of the Federal Republic of Nigeria," he said.
The governor who has been praised for his outstanding performance added that, "He has come to you Sir for so many reasons and looking at the dynamics and the place, it is you that this cap fits squarely, nobody can doubt and I make bold to say that these people that you see, both the traditional and in the other aspects of governance in our society are really committed to seeing that you actualise this ambition by becoming Insha Allah, the President of the Federal Republic of Nigeria," he said.
"In that regards, let me not talk too much but I believe that you are home and Insha Allah you shall go back home and dry because we are peaceful, we are loving because you showed us love, we are caring because you showed us care and we are patriotic, we want this country to progress and progress so that we can get to the level that our party calls 'The Next Level' and with you in charge we shall reach our destination.
"We welcome you to Gombe, on behalf of all the good people of Gombe State and now that you are here with His Royal Highness, on behalf of the traditional institution and government and good people of Gombe, you are welcome home and I pray that this event and subsequent ones that will follow as we go today will be peaceful and resultful, so that we actualise the ambition and plans that you came to achieve," the governor added.
Prof. Osinbajo declared to run for the 2023 presidential election on April 11 and has since been travelling across the country to meet with delegates ahead of the APC presidential primaries on 31 May.