Kaduna Train Attack: 168 people still missing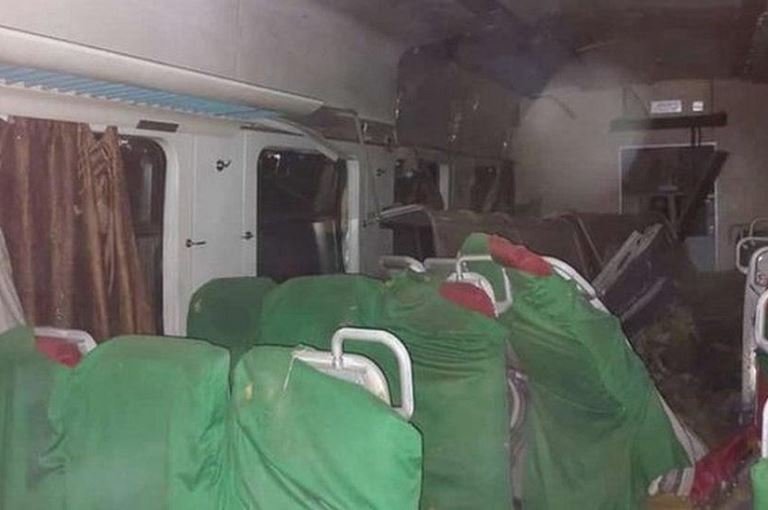 Nigeria Railway Corporation (NRC) have said that about 168 people are still missing after a deadly attack on a busy train last week in Kaduna.
NRC did was not clear on how many of the 168 were kidnapped for ransom – as some may have gone home without telling the authorities.
Gunmen blew up a section of track between the capital, Abuja, and the northern city of Kaduna last Monday.
During the ordeal at least eight passengers were killed.
One survivor has told the BBC how a decision to change carriage could have saved his life, and the lives of his family.
"I am happy that I am alive and well," he said on condition of anonymity.
"But I feel so sad for those killed and the injured – it could have been me," said the man, who almost missed the train altogether but ran with his wife and two children to catch it just in time.
Once on board, the family walked from one carriage to another after fellow passengers had said they were occupying the wrong seats.
They had been sitting in coach 17, which was one of those attacked, but moved to coach 12.
"We heard a loud explosion at about 19:45 – it shook the train and then the train ground to a halt," he said.
Suddenly there was the sound of gunfire coming from different directions as the attackers apparently surrounded the train.
"I gathered my family and we laid on the floor of the train as we saw other passengers doing," he continued.
"After some time, it seemed the gunmen forced their way into the coaches because we heard people barking orders at passengers in other coaches. There were some gunshots inside the coaches as well.
"People were ordered out of the coaches and led into the bush. Nobody entered our coach," the survivor said.
"My decision to change coach saved my life and my family."
Monday's attack has not been claimed by any group.
But the governor of Kaduna state suspects it was the work of Boko Haram Islamists teaming up with a kidnapping gang, and said that rescue operations were under way, while ruling out paying any ransoms.
There were 362 registered passengers on board the train when it was raided, however the Nigerian Railway Corporation has not said whether the 168 people believed to be missing are all customers or if some train staff are among them. It was initially reported there were 970 passengers on board – the reason for the discrepancy is not clear.
Reuters news agency quotes relatives of some of the missing as saying suspected bandits had contacted them to tell them they were holding their loved ones.
Such gangs have become rife in north-west Nigeria, and Kaduna state is considered the epicentre. Earlier this month, there were reports that Kaduna's airport was attacked.
In the last 24 months in Nigeria alone, armed gangs have killed hundreds of people and forced thousands to flee their homes.