2023: Other contestants must be shivering because of your credentials, Oba of Benin to Osinbajo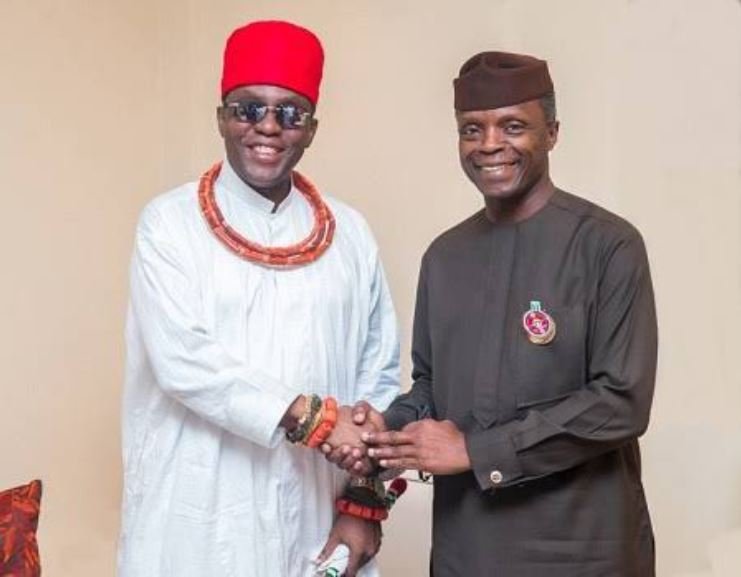 The Oba of Benin, Omo N'Oba N'Edo Uku Akpolokpolo, Ewuare II on Thursday received Vice President Yemi Osinbajo at his palace in Benin City, Edo state, noting that, Osinbajo's credentials have left other aspirants shivering.
His Royal Father who said he was supposed to be away for a meeting, explained that he waited to "receive our dear son of the soil".
Speaking at the palace, Osinbajo said with the experiences he had acquired he believes he has what it takes to become the next President of the Federal Republic of Nigeria.
The Oba of Benin replied that Osinbajo's credentials are well known, noting that, "When I was at Nasarawa listening to you, and of course I admired you, like this man is really a professor, the way you weave words. Not just because you are a professor, I think it is in your DNA. The way you weave words together, and put it across; the point you make and so on and so forth.
"I have always been your admirer. No doubt about your credentials, since you have come out to run for the great office. I think you are going to give a lot of problem to your contestants. There is no gainsaying it, that they are all probably shivering where they are.
"Coupled with your calmness, your humility and as my secretary remarks in great respect for culture and being a true man of God with the fear of God in his heart.
The Oba of Benin then went on describe Prof. Osinbajo as son of the soil. "When we got a letter from your office just the day before yesterday that the Vice President is coming to palace and I had to put this trip on hold and did not hesitate about it.  I was supposed to be in Abuja today for a meeting but I had to put it on hold to receive our dear son of the soil.
"Whenever we think about His Excellency (Osinbajo) here, it is always with a warmth in our heart. I visited him couple of times privately and he received us very warmly for which we keep thanking you. Your Excellency we have heard your reasons why you are here today.
"You don't need to over flog your credentials, they speak for themselves anywhere. Your Excellency, I always admire your eloquence," Oba of Benin said.
Chronicle NG reports that Prof. Osinbajo formally declared to run for 2023 presidency on April 11.
The Vice President is contesting on the platform of the ruling All Progressives Congress (APC).