Nigerians celebrate as Osinbajo declares for 2023 presidency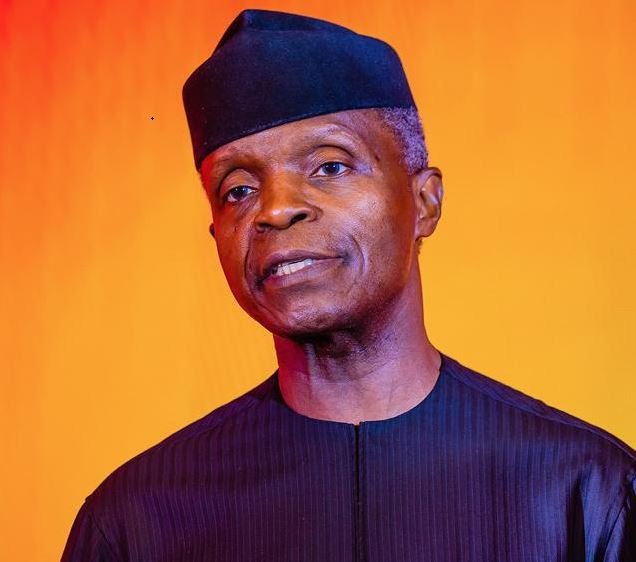 The internet was agog on Monday morning as Vice President Yemi Osinbajo declared his intentions to contest the 2023 presidency.
The Vice President's stellar declaration which was via a pre-recorded video was aired simultaneously on many national television.
In speech, the Vice President said there is need to complete what the Buhari administration has started which include radically transforming the security and intelligence architecture.
He also spoke about completing the reform of the justice system with focus on adequate remuneration and welfare of judicial personnel.
He harped on ensuring justice for all and the observance of rule of law as well as rapidly advancing our infrastructure development, especially power, roads, railways and broadband connectivity.
Reacting to the Vice President's declaration, renowned journalist and lawyer, Richard Akinnola said, "Osinbajo's innovative declaration today marks a tectonic shift of the paradigm. One, as a loyal and arguably the most cerebral Vice President in Nigeria's history, Osinbajo has been laser-focused on his job. For instance, if Nigeria exited the COVID-inflicted recession earlier than the bookmakers forecasted, it is largely due to the creative leadership Osinbajo provided the Economic Sustenance Programme (ESP) initiated by President Buhari."
Similarly, Fejiro Johnson admired the approach Osinbajo used to declare. "In the digital age of technology and social media, metaverse, it makes perfect sense that Vice President Yemi Osinbajo will make his declaration via the digital world. Not only would it garner massive mileage, but it would also reverberate across all traditional, digital and social media channels."
On social media, Nigerians used hashtags, OsinbajoDeclares and OsinbajoIsMyChoice to celebrate Osinbajo's declaration.
Commenting on the Vice President's declaration, Onowvo Omasoro Ali Ovie said, "I believe Osinbajo will be a good President for Nigerians and will go on a sweeping reform agenda to make our institutions work. Whenever he acted as President in the absence of Buhari, Nigerians of APC and PDP persuasion have always lauded his wits and leadership demonstration.
Sola Jimoh also had a say on the matter. "I'm in the Professor Yemi Osinbajo tent, in fact I'll volunteer to work on his campaign should he be the nominee of the APC and in the event that he's not, the APC still has my vote no matter who the nominee is.
Renowned lawyer and a member of the ruling All Progressives Congress, Arinola Awokoya wrote, "Professor Yemi Osinbajo's manifesto already purposefully stated in his declaration and it resonates with me. We must complete the regeneration of Nigeria and the revamp of our ethos," she wrote with the hashtag, #ISupportPYOWithMyChest.
Kikelomo Ademola says Osinbajo's Presidency bid will be a success. "The Odeshi 1! The man who refuses to be mocked by the cabals! Senior Advocate of the Masses has declared his intention to run as Nigeria President come 2023. It will be a success by God's grace.