Russian advances on Ukraine cities stall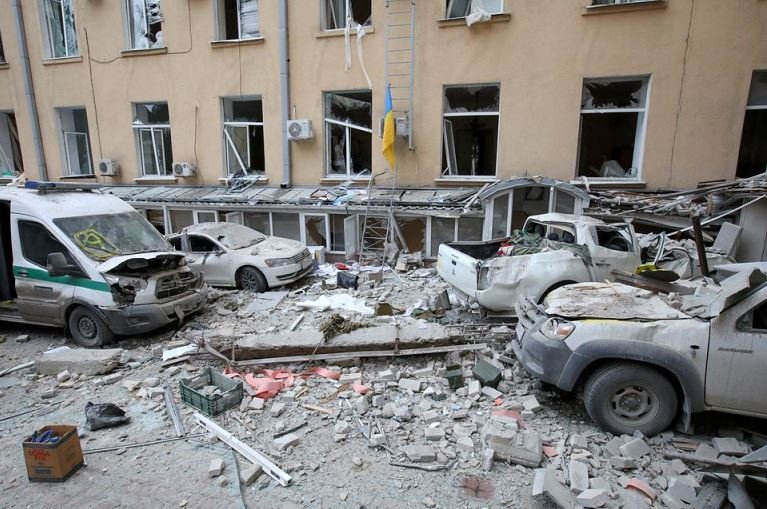 Ukrainians said on Wednesday they were battling on in the port of Kherson, the first sizeable city Russia claimed to have seized, as air strikes and bombardment caused devastation in cities that Moscow's bogged down forces have failed to capture.
After nearly a week, Russia has yet to achieve its aim of overthrowing Ukraine's government, but has, according to the Ukrainian emergency service, killed more than 2,000 civilians and destroyed hospitals, kindergartens and homes.
The invasion has sent more than 870,000 people fleeing over Ukraine's borders and retaliatory sanctions have shaken the world economy, with surging oil prices exacerbating fears of inflation.
Bombing of Kharkiv, an eastern city of 1.5 million people, has left its centre a wasteland of ruined buildings and debris.
"The Russian 'liberators' have come," one Ukrainian volunteer lamented sarcastically, as he and three others strained to carry the dead body of a man wrapped in a bedsheet out of the ruins on a main square.
After an air strike on Wednesday morning, the roof of a police building in central Kharkiv collapsed as it was engulfed in flames. Authorities said 21 people were killed by shelling and air strikes in the city in the past 24 hours, and four more on Wednesday morning.
Moscow denies targeting civilians and says it aims to disarm Ukraine, a country of 44 million people, in a "special military operation".
Apple, Exxon, Boeing and other firms joined an exodus of international companies from Russian markets that has left Moscow financially and diplomatically isolated since President Vladimir Putin ordered the Feb. 24 invasion.
"He thought he could roll into Ukraine and the world would roll over. Instead, he met a wall of strength he could never have anticipated or imagined: he met Ukrainian people," President Joe Biden said on Tuesday in his annual State of the Union address.
US lawmakers stood, applauded and roared, many waving Ukrainian flags and wearing its blue and yellow colours.
Russia said it had sent delegates for a second round of peace talks in Belarus. Ukrainian President Volodymyr Zelenskiy said Russia must stop bombing if it wanted to negotiate.
Moscow said on Wednesday it had captured Kherson, a southern provincial capital of around 250,000 people strategically placed where the Dnipro River flows into the Black Sea.
Zelenskiy advisor Oleksiy Arestovych denied Kherson was fully under Russian control, saying: "The city has not fallen, our side continues to defend."
Also in the south, Russia was bombarding the port of Mariupol, which it says it has surrounded in a ring around the entire Sea of Azov. The besieged city's mayor said Mariupol had suffered mass casualties after a night of intense strikes. He gave no full casualty figure, but said it was impossible to evacuate the wounded and that water supplies were cut.
"The enemy occupying forces of the Russian Federation have done everything to block the exit of civilians from the city of half a million people," mayor Vadym Boichenko said in a live broadcast on Ukrainian TV.