Minamino stars as Liverpool beat Norwich to reach FA Cup last eight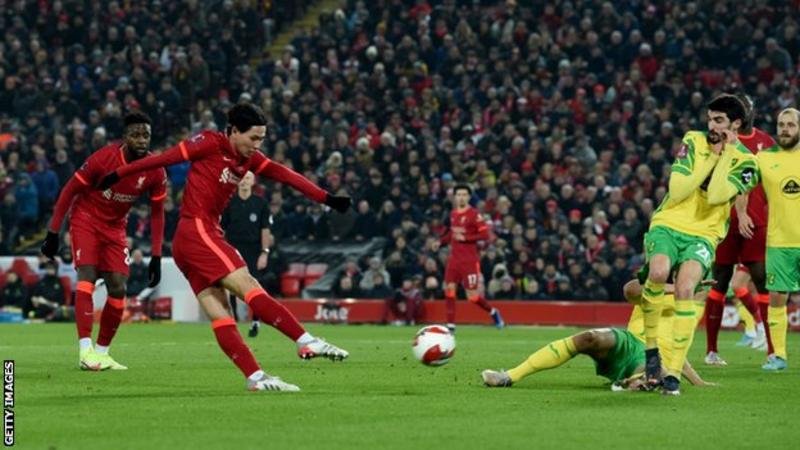 Jurgen Klopp praised "top-class" Takumi Minamino as his two goals ensured Liverpool followed up their Carabao Cup triumph by beating Norwich to reach the FA Cup quarter-finals.
The Reds beat Chelsea on penalties in a gruelling and thrilling Wembley encounter on Sunday and showed their strength in depth by winning this fifth-round tie at Anfield after making 10 changes.
Minamino was an unused substitute at Wembley but grasped his chance of a return to the starting line-up with two first-half goals against the Canaries.
The Japan international opened the scoring when he was teed up by Divock Origi to drive in from close range, adding a second just before half-time when he was left unmarked at a corner to hit a great strike into the roof of the net.
"It was an exceptional game of football," Liverpool boss Klopp said of Minamino. "He looked extremely sharp. He showed all of the things he knows for sure he has in him. It was a complete performance.
"The two goals were great but all the rest he did was top class as well."
Minamino had scored four goals in five EFL Cup games for Liverpool this season but was left out of the starting XI for the final.
Asked if he would have been disappointed by that, Klopp added: "It was disappointing, I can imagine.
"How he is, I don't think that is the reason why he played so good tonight. He isn't the kind of person for this sort of anger.
"Takumi (Minamino) was a massive part of the whole journey. Not playing in the final might have been hard in the moment but in the long term, he can look back [on the fact] that he won the League Cup and that can be a good thing."
It was not a straightforward win for Liverpool as Norwich showed fight late on, giving their impressive away following hope when Lukas Rupp found himself in space to thump a fierce shot beyond Alisson.
The Liverpool goalkeeper then pushed over a powerful Jonathan Rowe strike as Norwich pressed but the hosts held on to secure their passage into the last eight.
Klopp's side have now beaten Norwich four times this season – home and away in the Premier League and in the EFL Cup third round, along with Wednesday's win.
It is also the first time in the Reds' history that they have beaten the same team four times in a single campaign.
"I thought the team who deserved to go through went through," Norwich boss Dean Smith told BBC Sport.
"But we asked enough questions of them. We created chances. A lot of players who haven't had many minutes have come in and done exceptionally well. That'll help us picking the team."
FA Cup progress paving the way for Liverpool quadruple?
Victory in Sunday's EFL Cup final means an unprecedented quadruple – winning the Champions League, Premier League and two domestic cups – remains a possibility for Liverpool.
The Reds have a 2-0 lead over Inter Milan from the first leg of their Champions League last-16 tie and are six points behind Manchester City in the title race but winning the lot is something Klopp has, understandably, played down.
No English club has ever managed the feat. City came close in 2019 after winning a domestic treble but they were beaten by Tottenham in the quarter-final of that season's Champions League.
But while Klopp may play down a clean sweep of trophies, he will nevertheless be keen to win at least the FA Cup, given that it is a trophy that has so far eluded him and Wednesday marked the first time he had taken the Reds beyond the fifth round.
Squad depth is going to be key to the Reds' hopes of challenging for multiple trophies and Minamino's display underlined just how much talent they have.
With Sadio Mane, Mohamed Salah, Diogo Jota and new signing Luis Diaz, the Reds have a plethora of attacking options – but despite that, Minamino has played his part this season.
Asked about how important squad depth has been for Liverpool's form this season, Klopp said: "That's the reason for the situation we are in. We have this kind of mentality and character in the squad.
"It is exactly what we need to be successful in the long term. That is the quality we need and the boys have to be ready. They don't fight each other for a position but they have to fight for their best version."