JUST IN: Oyetola takes early lead in Osun APC primary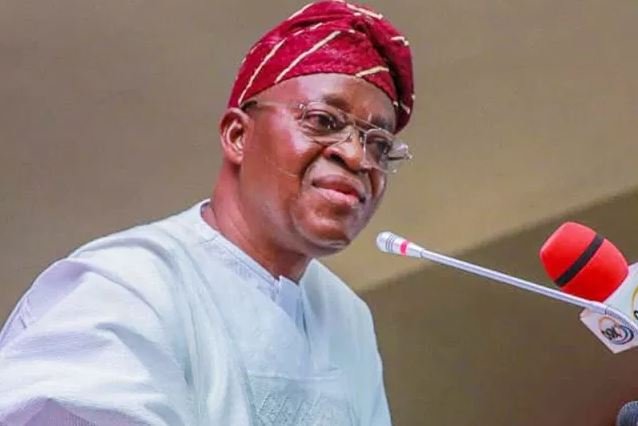 Early results from the Osun APC governorship primary show that incumbent, Gboyega Oyetola has taken a healthy lead ahead of his rivals, Moshood Adeoti and Lasun Yusuf.
At Eyindi Ward 07 in Ila-Orangun, Oyetola won all the 545 votes cast by party members.
In Alusekere Ward 05 Ede North, Oyetola won 720 out of the 730 votes.
Adeoti, a former government secretary, supported by former governor Rauf Aregbesola, got only 10 votes.
There was no vote for Lasun Yusuf.
Oyetola also won Ward 4, Ido Osun, Egbedore LG by a large margin. He got 489 out of the 524 votes cast.
Adeoti scored 35 votes.
Some results from Osogbo, also indicated that Oyetola is sweeping the polls.
He polled 1879 votes at Ileri-Oluwa Bridge while Adeoti garnered 49 votes here.
In Osogbo ward 12, he also scored 1,332 votes. There was zero vote for Adeoti.
At Ward 09 in Ayedaade LG, Oyetola polled 296 to Adeoti's 63.
In Ward 10 of same local government, Oyetola got 579 and Adeoti garnered 78 votes.
Some results from the battleground in Ilesa include:
Ward 7, Ilesa East LG
Oyetola 808
Adeoti 46
Ward 8, Ilesa East LG
Oyetola 309
Adeoti 146
Ward 10, Ilesa East LG
Oyetola 741
Adeoti 30
Ward 10, Atakumosa East LG
Oyetola 483
Adeoti 15
Ward 6, Ilesa West LG
Oyetola 892
Adeoti 53
Accreditation of members of the All Progressives Congress (APC) for the today's governorship primary in Osun, began on a peaceful note with large turn out in many parts of the state.
The News Agency of Nigeria (NAN) Correspondents monitored the exercise in Osogbo, Ile-Ife, Ilesa, Ikirun, Ede, Iwo, among other towns in the state.
NAN reports that party members were seen on queues, waiting to be accredited in many of the areas visited.
The Governor of Kwara, AbdulRahman AbdulRazaq, who is leading a seven-man committee for the Saturday's APC governorship primary in Osun, had promised free, fair and credible exercise.
AbdulRazaq gave the assurance at a stakeholders' meeting on Friday in Osogbo.