Sex Abuse: University of Michigan reaches $490m settlement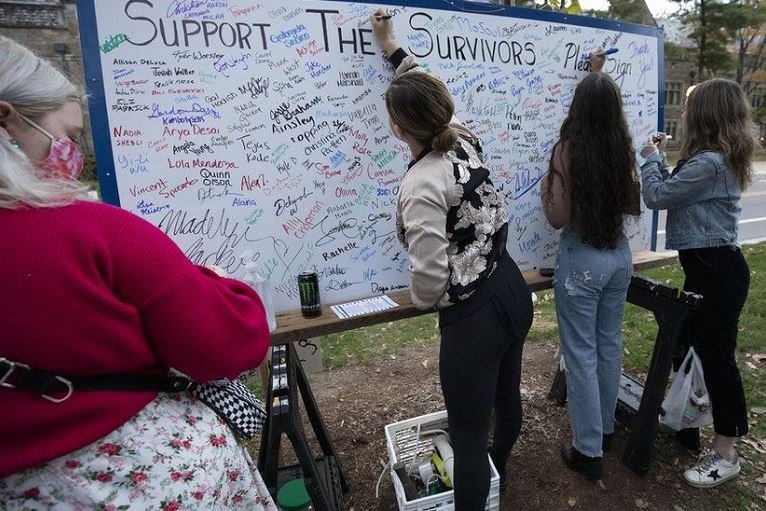 The University of Michigan has agreed to pay $490m (£360m) in damages to more than 1,000 mostly male former students who say they were sexually abused by sports doctor Robert Anderson.
Lawyers announced the settlement after 15 months of negotiations over accusations dating back to the 1960s.
One said he thought the settlement would bring "justice and healing".
Anderson, who died in 2008, is said to have abused victims during routine medical examinations.
A police investigation launched in 2018 said no charges could be filed because Anderson was dead and none of his alleged crimes fell within the state's six-year statute of limitations.
In 2020, University of Michigan president Mark Schlissel apologised on behalf of the university to anyone harmed by the doctor.
Last year, an independent report commissioned by the university found that over Anderson's career there, from 1966 to 2003, staff had missed many opportunities to stop him.
Under the settlement, some 1,050 people will get a share of the $490m, with $30m set aside for any future accusers.
"It has been a long and challenging journey and I believe this settlement will provide justice and healing for the many brave men and women who refused to be silenced," said the victims' lawyer, Parker Stinar.
Many of the allegations against Anderson involved unnecessary rectal and testicular examinations.
Former members of the university's famous American football team, the Wolverines, are among those who accused him of abuse.
One of them, Gilvanni Johnson, told a news conference last year: "Because of my experience at Michigan, I did not trust doctors. I had trust issues, relationship issues and intimacy issues."
In 2018, another college in the state, Michigan State University, agreed to pay $500m in a settlement with hundreds of women abused by disgraced gymnastics doctor Larry Nassar, who is in prison for his crimes.