Newcastle unveil Kieran Trippier as first signing of Saudi-era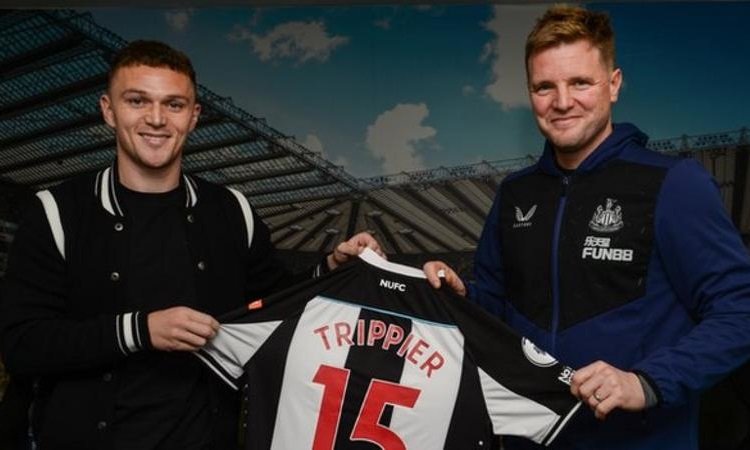 Kieran Trippier has joined Newcastle United for the "challenge" and not the "financial benefits", Eddie Howe says.
He has been cleared to play Newcastle's FA Cup against Cambridge on Saturday after his signing was completed.
Trippier, 31, has arrived from Atletico Madrid for £12m plus add-ons – Newcastle's first signing since October's Saudi Arabian-backed takeover.
The England defender has agreed a deal until the end of the 2023-24 season.
"It's a sign that the club has a huge pull – and I'm not talking financial here," said head coach Howe.
"Kieran hasn't come for the financial benefits of the contract. He's come for the club and for the challenge that the team faces at the current time, but also the longer-term vision, so I think that's a massive thing for the football club."
Trippier said: "If people say it's about money, then everybody's entitled to their own opinion, but I know my reasons why and that's not one of them."
Howe 'confident' of more signings
Howe, appointed Newcastle boss in November, also signed the England full-back in 2012 during his time at Burnley.
"Hopefully with his signing, other players around the world will potentially look at that and share his dream and his vision for what he sees," added Howe. "That's a big thing for us."
Howe said he is confident of more signings in the transfer window, adding: "But we're in the hands of clubs selling players, we're in the hands of agents and players wanting to come.
"There are no guarantees. It might sound simple from the outside; it's very, very different when you're on the inside, so I'm confident, but there are no promises."
'I love a challenge' – Trippier
Trippier, who won the Spanish title with Atletico last season, had 18 months left on his contract in Spain.
Newcastle are second bottom of the Premier League, having won one league game this season.
Former Burnley defender Tripper, a graduate of Manchester City's youth academy, says he moved to Newcastle because "I love a challenge" and his family wanted to return to the north of England.
"I'm feeing very positive, the players are feeling positive and you see the atmosphere around the place," said Trippier, who joined Atletico in 2019 after four years at Tottenham.
Howe said he had "long admired" Trippier, adding: "When the opportunity arose to secure him, we didn't hesitate.
"A lot of hard work has gone into planning for the January transfer window long before the month began, which is clear in how quickly we have been able to complete this move."
'I still want to play for England' – Trippier
Trippier, who was part of the Spurs side that reached the Champions League final in 2019, made 83 appearances for Atletico following his £20m move.
He made his England debut in 2017 and was part of the squad that reached the semi-finals of the 2018 World Cup – scoring in the semi-final defeat by Croatia – and the final of the European Championship last summer.
Trippier said: "I still want to get in the England team. I know I'm up against Reece James, Kyle Walker and Trent [Alexander-Arnold] and I feel I can still handle the pressure and performances.
"I still feel like I'm in very good shape. I need to keep good performances for Newcastle."
Newcastle host Cambridge United in the FA Cup third round on Saturday and fellow strugglers Watford in the Premier League on 15 January.