Chelsea hit five against Chesterfield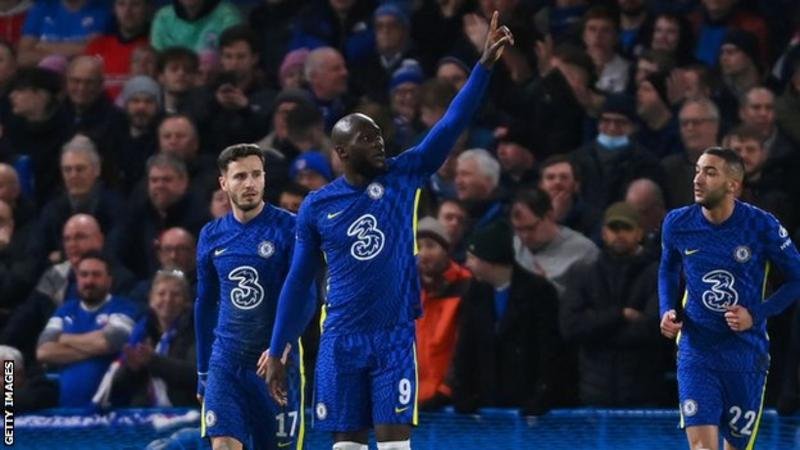 Chelsea predictably outclassed battling National League side Chesterfield to cruise into the FA Cup fourth round with an emphatic victory at Stamford Bridge.
In an atmosphere wonderfully enhanced by the noisy and colourful presence of around 6,000 Spirites fans, the Champions League holders stamped their class on proceedings immediately to illustrate the huge gulf between the clubs.
Chelsea, second in the Premier League with Chesterfield in the same position in their division, fielded a strong side and took only four minutes to open the scoring as Timo Werner bundled home from close range.
Callum Hudson-Odoi's curled finish doubled Chelsea's advantage before Romelu Lukaku added a third and Andreas Christensen's looping header made it 4-0 before the break.
Hakim Ziyech scored Chelsea's fifth from the spot in the 55th minute after substitute Calvin Miller fouled Christian Pulisic but the big moment – and biggest cheers – came 10 minutes from time when Chesterfield substitute Akwasi Asante turned in a rebound after Marcus Bettinelli saved from Kabongo Tshimanga.
It was a moment of unforgettable, unconfined joy for Chesterfield and their fans – and fully merited for their tireless contribution to an entertaining FA Cup third round tie.
Chesterfield enjoy big FA Cup day
Chesterfield and their fans probably knew what was coming, especially when they caught sight of the Chelsea team-sheet.
This was not a day to waste, however, and the Spirites' followers relished every moment even amid the pain inflicted by Chelsea.
And what celebrations there were when Asante scored with 10 minutes left, Chesterfield's fans deservedly exploding with joy and the scorer mobbed by elated team-mates.
This was a what-might-have-been FA Cup meeting between the sides, with Chesterfield forever believing they were unjustly denied a final against Chelsea at Wembley in 1997.
It came after, with the third tier Spirites leading 2-1 in the semi-final against Middlesbrough at Old Trafford, referee David Elleray and his fellow officials failed to spot that Jon Howard's shot had clearly crossed the line when they were 2-1 up with 20 minutes left.
The game finished 3-3 and the Chesterfield dream died, Middlesbrough going on to win the replay at Hillsborough before losing to Chelsea in the final.
Filthy weather and travel disruption did not deter thousands of Chesterfield followers who flooded the streets around the stadium before kick-off in what was a typical FA Cup atmosphere.
Leading scorer Tshimanga's name echoed around west London, Wham's 'Wake Me Up Before You Go-Go' reworked into "Wake Me Up Before You Go-Go, Who Needs Messi When We've Got Kabongo?".
Spirites' fans took over the entire Shed End and even as their team was predictably, and perfectly understandably, outclassed they were never silenced in support of manager James Rowe and his players.
Every tackle was cheered, volume rising on the rare occasions they ventured near Chelsea's goal, each effort to bridge the gap between the two sides hugely appreciated.
Lukaku was a particular target, Chesterfield fans making the most of his recent punishment after a recent interview expressing discontent at Chelsea with the chant: "Romelu Lukaku – He's Inter Milan".
Yes, this was a punishing 90 minutes in the football context but one from which Chesterfield and their followers emerged with credit.
Chesterfield will now return to their main priority of promotion from the National League, where they stand a point behind leaders Halifax with two games in hand, with this education in playing against elite Premier League opponents to help them.
They went over to take the fully deserved acclaim of their fans at the final whistle – and Chesterfield's players responded with mutual admiration.
Manager James Rowe was delighted with his side's response to conceding three early goals and says Asante's late goal qill go down in the memory of fans.
"It was very special," he told BBC Sport. "Great to get the goal at the end for us and the supporters and what a proud day to be a Spireite. Half-time was about recollecting our thoughts because the line-ups surprised us a bit. It was a great lesson for us on the transitions, and we focused at half-time and drew the second half 1-1."
"[Asante] has been out for nine months with an ACL injury, so it was great for him to come back on his third appearance and score. It was a great noise, too, and something we can all remember."
Chelsea show Spireites and FA Cup full respect
Chelsea manager Tuchel could have been forgiven for resting the vast majority of his main players given that they were facing National League opponents. There were plenty of changes – but this was still a side that demonstrated that he was not taking the FA Cup or Chesterfield lightly.
And it was reflected in Chelsea's consummately professional attitude as they showed Chesterfield no mercy from the first whistle to race into that 4-0 lead by half-time.
Lewis Hall was given the chance to impress at left-back while it was also a big day for Lewis Baker when he came on as a second-half substitute. It was his first appearance since 2014 and only his second in the senior side. He has been at Chelsea since he was nine and been out on loan in recent seasons.
Werner and Lukaku were given the chance to add to their goal tally, which they duly did, while Hudson-Odoi's superb finish was fitting reward for a lively showing.
Chelsea, inevitably, eased up with the game won and concluded the formalities with the minimum of fuss but it is clear Tuchel will be taking the FA Cup seriously.