950 terrorists, 537 bandits killed while 24,059 terrorists surrendered – DHQ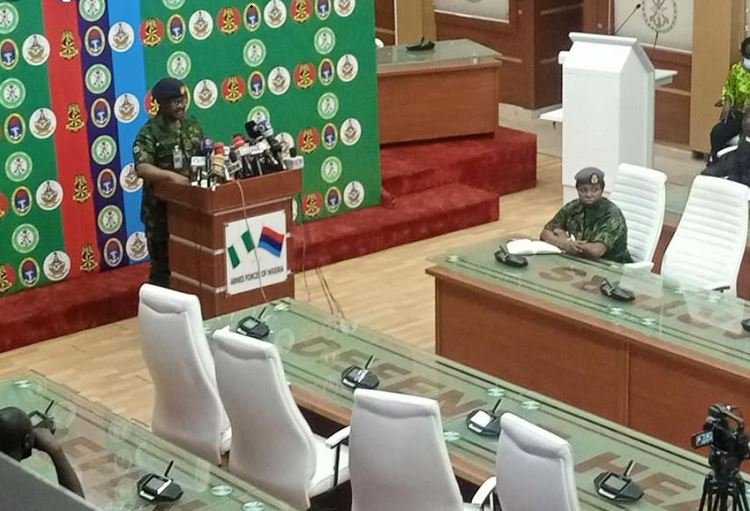 Defence Headquarters (DHQ) said at least 950 terrorists and 537 armed bandits were killed by Nigerian troops in the last seven months across the country.
The DHQ on Thursday detailed how formations across the country helped safeguard the country, adding that, over 20,000 terrorists surrendered to the Nigerian government.
Major General Benard Onyeuko, acting director, Defence Media Operations, noted that the report by the DHQ covered achievements between 20 May 2021 and 6 January 2022; from when we started our fortnight briefings.
"Within the timeframe in focus, own troops conducted series of land, maritime and air operations in the various theatres, involving both kinetic and non-kinetic activities across the country in major and subsidiary operations.
"Our gallant troops in the frontlines executed these operations with utmost zest that resulted in the incapacitation of terrorists' fighting capability and neutralization of scores of terrorists, bandits and other criminal elements, including high profile ones, who were either neutralized in action or arrested.
"Furthermore, large numbers of terrorists have continued to surrender due to troops' overwhelming superior combat power and intelligence activities. Also, troops rescued kidnapped civilians as well as repelled and forestalled criminal elements' attacks on civilians and troops.
"Troops also recovered caches of arms and ammunition, equipment, vehicles and large numbers of livestock within the period. In the maritime environment, our ever resilient and dogged troops' operations disrupted activities of economic saboteurs and smugglers, immobilized illegal refining sites and arrested perpetrators as well as recovered tons of petroleum products, arms, ammunition, vehicles, boats and other equipment used for illegal bunkering activities. Besides, troops engaged in various non-kinetic activities as strategies for addressing security challenges in different theatres.
"Own troops operational activities in Operation HADIN KAI theatre resulted in the neutralization of 950 terrorists including their high profile Commanders and Amirs. Also, a total of 79 terrorists were arrested and 113 kidnapped civilians were rescued by the troops of Operation HADIN KAI within the period.
"In Operation HADARIN DAJI, the operational efforts of our gallant troops yielded appreciable results between 20 May 2021 and 6 January 2022. A total of 537 armed bandits and other criminal elements were neutralized in action by own troops, while 374 criminal elements including armed bandits and their collaborators as well as armed herdsman and robbers were arrested.
Summarising the achievement of the Nigerian Armed Forces, he said, "the Armed Forces of Nigeria from 20 May 2021 to 6 January 2022 neutralized 1,910 criminal elements including terrorists, armed bandits and robbers as well as kidnappers across the country.
"This is in addition to scores of other terrorists and armed bandits killed during air strikes within the period. Troops also rescued a total of 729 kidnapped victims across the country.
"Furthermore, within the period in focus, troops made a cumulative total recoveries of thirteen million, two hundred and one thousand, three hundred (13,201,300) litres of illegally refined Automotive Gas Oil and three million, nine hundred and sixty-nine thousand (3,969,000) litres of dual purpose kerosene.
"Also, 38,582 barrels and six million, four hundred and ninety-one thousand (6,491,000) litres of stolen crude oil as well as eleven million, six hundred and fifty-nine thousand, five hundred (11,659,500) litres of illegally refined Premium Motor Spirit were recovered and handed appropriately.
"Additionally, a total of 912 criminal elements were arrested, while large cache of arms and ammunition as well as livestock among other items of economic and security concerns were recovered by the troops during the period."