UAE denied Air Peace frequency, we reciprocated on Emirates – Hadi Sirika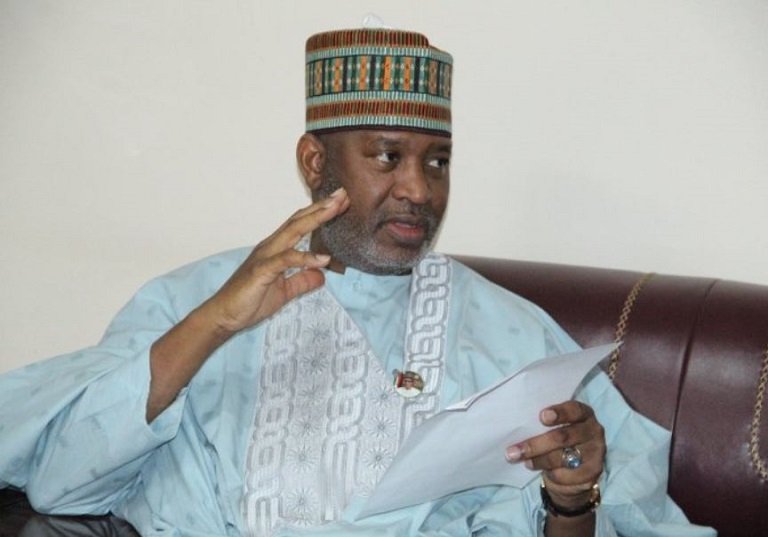 Aviation Minister, Hadi Sirika, has explained why Nigeria reduced the number of flights that Emirates Airlines can make in Nigeria on weekly basis.
Sirika noted that the action was in reciprocity to the actions of the United Arab Emirates (UAE) that denied Air Peace Airlines more frequency into the Arab country.
In an audio recording received by Chronicle NG on Saturday, the aviation minister explained that the Nigerian government had received a letter, which he described as 'insulting' from the UAE government.
The minister said while Emirates Airline was given 21 frequencies into Nigeria on weekly basis – which translates to three flights a day – the UAE government was reluctant to give Air Peace three flights a week.
He said Emirates Airline landed two flights to Lagos one flight to Abuja on a daily basis, totaling three flights a day.
Sirika detailed how UAE restricted Air Peace to only one flight a week and that the flight was for Thursday to a less lucrative airport – Sharjah Airport.
This action, he noted, prompted the Nigerian government to reciprocate, by reducing Emirates flights to only one and that one flight must land in Abuja and not Lagos.
He admitted that the measure will hurt both the Nigerian government and the Emirates airline but he insisted that Nigeria's interest must be protected.
"Regarding Emirates operation in Nigeria, we have a problem with them and for those who are intending to go to UAE via Emirates, I think it is very important they understand what is going on so that they don't see it from the wrong perspective," Sirika said in the audio obtained by Chronicle NG.
"There is what is called bilateral air service agreement. This is agreement between two countries on how to operate or how their airlines would operate in each other's territory. In this case, how would emirates operate within the shores of Nigeria and how would any Nigerian airlines operate within the shores of the UAE?
"So, they have got two major airlines – that is Etihad and Emirates. We negotiated a bilateral air service agreement with them and when we came in as government, we gave them (they requested) 21 frequencies. Meaning that they would be coming to Nigeria 21 times a week or meaning that three times a day. Two in Lagos and one in Abuja; this was what Buhari government gave them. They were having 14 frequencies when we came. It was seven for Lagos and seven for Abuja.
"We have no airline that can go into UAE for same for 21 times. They are taking advantage of us which is not their fault, but ours.
"However, we have got a Nigerian airline which is Air Peace, which applied to get only three out of their 21 equivalent frequencies and I approved.
"So, Air Peace wanted to be going into UAE three times in a week; UAE refused to approve the three frequencies for Air Peace. They insisted on giving them only one frequency and it is in Sharjah. We are giving them 21 from our agreement and they ought to give us 21. They are supposed to give us 21. It is up to Air Peace to operate all the 21 or operate just their three.
"So, we went back and forth with them. We had meetings with them. And we said okay, we are also going to look at it and give you only one frequency as against 21.
"They wrote us a letter. Very insulting letter that referring to our meeting and discussions, and having looked at our operations, and with great pains, we are giving you one slot and that is the best we can do in the circumstances that our airports are full.
"This is very insulting and this is not acceptable by international treaties, conventions and agreements. I directed that they also be given one frequency and into Abuja and beginning from December 12. From December 13, they will only come once into the country.
"So, anyone who wants to get into Emirates should get out by December 12.
"I know they cannot bear the pressure. Honestly, who cares? By their not coming, they are losing a lot of money and we also in Nigeria are losing the service they provide. But the sovereignty of 200million people is too important to toil with," Sirika said.
The UAE government had earlier written to the Nigerian Civil Aviation Authority saying its action to limit Emirates' flights to once weekly was unjustifiable.
In a letter dated December 10 and addressed to Sirika and signed by Abdulla Bin Touq Al Mari, Minister of Economy and Chairman of the UAE's General Civil Aviation Authority, the Arabian country had said the action taken by the NCAA regarding the Air Peace's approval at Sharjah was "not in line with the spirit of the agreed air services arrangements between our two nations".
Al Mari said Air Peace, which initially operated at Sharjah Airport, had shifted to Dubai Airport and then returned to Sharjah Airport, saying the airport authorities could not keep their slots after the airline left.
He said, "It would be unreasonable for an airline to expect any airport to maintain their slots when they ceased operating at that airport.
"The UAE aviation authority further said Sharjah Airport was currently operating at 140 per cent slot capacity — and that the country had made goodwill by accommodating Air Peace with one slot of the three requested."
Emirates rakes in huge sums yearly from Nigerian passengers, who go on frequent trips to UAE for shopping and leisure.