Kanye and Drake end feud for Larry Hoover gig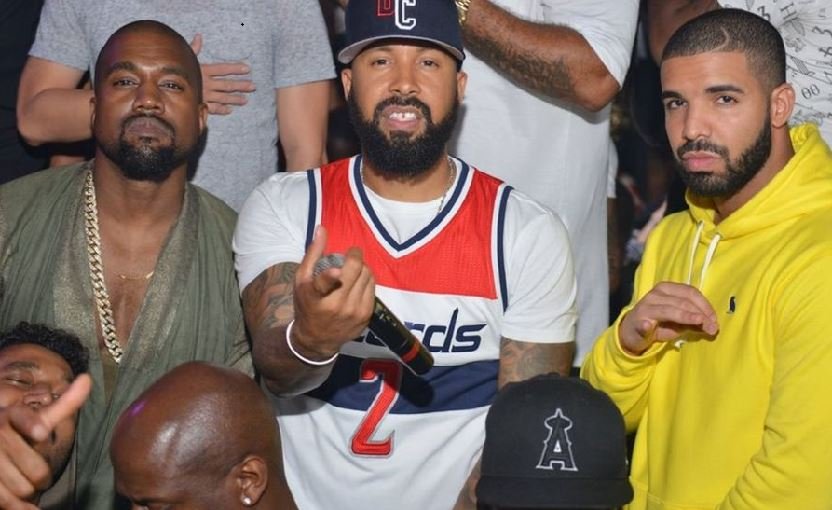 The sight of Ye (who recently changed his name from Kanye West) and Drake on stage together is not something fans would ever expect to see, because of their long-running feud.
For the past few years we've seen the former friends locked in a war of words, lyrics and even emojis.
But they've put that to one side for a concert to raise awareness for a man they both want to be freed from jail.
The show took place in Los Angeles on Thursday night.
Larry Hoover, 71, is in one of the most secure prisons in the US.
He's been behind bars for more than five decades for his involvement in crimes such as gang-affiliated murder.
Ye's show at the Los Angeles Memorial Coliseum was his first headline performance in five years, the organisers said.
He performed various hits including some of Drake's, such as Find Your Love. Drake could be seen singing along off stage.
Jonathan McPherson was at the concert and told Radio 1 Newsbeat he felt the moment showed "the beef was no longer" and the "two legends" have now "formed a friendship".
"Both Ye and Drake fans were able to put their differences aside," he added.
Drake singing along to Kanye as he preforms Find Your Love
pic.twitter.com/ZtqkIUp4BY

— Drake Direct (@DrakeDirect_) December 10, 2021
Later, Drake joined Ye and they performed several tracks together.
One person on Twitter said seeing them perform together was "an iconic moment for hip hop culture" while another said it was "the greatest concert known to man".
Who is Larry Hoover?
Court documents from July say Hoover was one of the leaders of a Chicago gang called Gangster Disciples between 1970 and 1995.
Under Hoover's direction, the gang sold "great quantities of cocaine, heroin, and other drugs in Chicago".
In 1973 he was convicted for ordering the killing of a 19-year-old neighbourhood drug dealer and sentenced to 150-200 years.
In 1997 he was given six life sentences after being found guilty of federal drug conspiracy, extortion and continuing to engage in a criminal enterprise.
Failed appeal
His supporters say while in prison Hoover has told followers of the Gangster Disciples group that he denounced violence, wanted all members to get an education in school and has shown rehabilitation.
Larry Hoover has unsuccessfully appealed to be freed, or to be put in a lower security prison, under the First Step Act – which is a way to challenge extremely long sentences for federal drug offences.
In the appeal case the court was told Hoover had been under "severe isolation" in jail, including being in solitary confinement for up to 24 hours a day.
According to the Hoover Project – which campaigns for his release – keeping him longer than the time he's served "serves no practical purpose".
But in a 19-page order released in July, Judge Harry Leinenweber rejected Hoover's appeal, referring to him as "one of the most notorious criminals in Illinois history".
And despite writing that Hoover's sentence at the maximum security prison was "particularly grim," the judge said he was concerned about "an active risk of harm" if Hoover were freed.
"Hoover is renowned and celebrated to this day by the Gangster Disciples," the judge wrote.
"To the extent that any one person can deter another to commit crimes, Hoover's life imprisonment symbolically demonstrates that the rule of law reaches even those in power who seem untouchable."
How is Kanye West involved?
Raised in Chicago, Ye has supported Larry Hoover for a while and has been trying to get him out of prison.
He brought up the case when he met former President Donald Trump in 2018 and asked for Hoover to be pardoned (which didn't happen).
Ye also has a song on his new album Donda called Free My Father, which features Larry's son, Larry Jr speaking.
I met with @kanyewest night in Htown at the Rothko Chapel. It wasn't in my plans to meet him there but I must say I'm glad I didn't allow a worship place for God to detour our meeting. pic.twitter.com/GM9FIN80Uj

— J Prince (@jprincerespect) November 8, 2021
Speaking ahead of the concert in Los Angeles, Larry Hoover Jr said the event would help to take his dad's "plea for redemption worldwide and show that we are truly stronger together on behalf of any and everyone with a loved one wrongly or unjustly incarcerated".
Hoover's lawyer Justin Moore told Newsbeat there will be future efforts to free him using the First Step Act.
"We are cautiously optimistic that Larry, who is now in the twilight of his years, can show that he can re-enter society and adjust to life as a fully rehabilitated citizen."