The Crowther Project goes to schools by Pelu Awofeso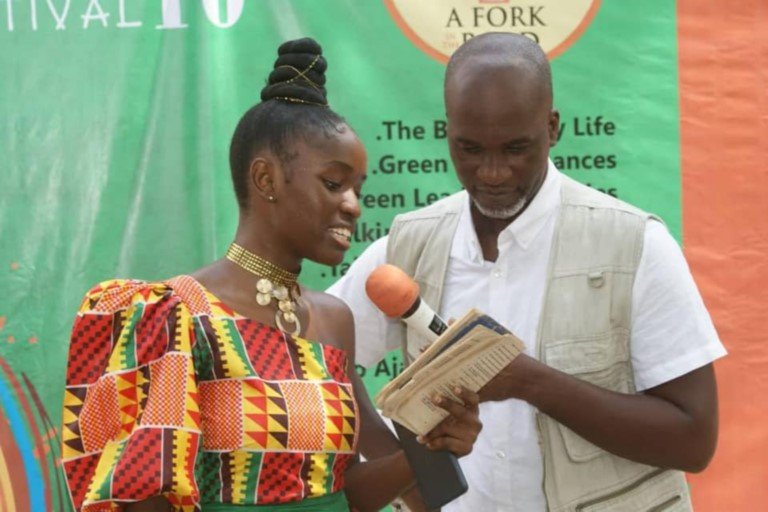 By Pelu Awofeso
Last weekend, I had the opportunity to speak with 100+ students from various schools about the Bishop Crowther Project. The students were guests of the Green Festival, the children section of the Lagos Books and Arts Festival (LABAF).
Crowther for kids
A number of the students had been on an excursion to Badagry, toured the church building that Bishop Crowther lived in and so could relate a fact or two about him. To help the other students get a sense of the subject, we dug deeper into the subject.
For that, I used an old primary school textbook, "First Steps in History for Junior Learners" written by Adeoye Adetunji. Published in 1982 by Ayelabowo Book Centre, it profiles 91 historical personalities – from Uthman Dan Fodio and Nnamdi Azikiwe to Moremi and Emotan.
I recall reading the booklet as a pupil in a public primary school in the 1980s, so it was nostalgic holding the book and teaching with it. It was here that I first read about the likes of Mary Slessor, Kings Akintoye and Dosumu, Mungo Park, Lander Brothers, Vasco Da Gama and King Jaja of Opobo before I turned 10.
In 19 short sentences, the booklet summarises the Crowther's life from his capture in Osoogun to his death and burial in Lagos, in 1891.
To test the children's grasp of the text, I asked what kind of man they thought Crowther was.
"He was a legend," one said.
"He was a leader," said another.
"He was a hero," came another response.
On and on and on they responded, with answers that were on point.
A school's tour
Before I ended the session, I made a promise to the kids. "I believe that by the time we come for Green Festival next year, the documentary will be ready and we can all watch it together." It was a promise to myself, more or less.
This was my first interaction with school-age groups since the project launched last September. We are already discussing the possibility of a school's tour in 2022, in between our filming schedules.
Thanks to everyone who has supported the project so far. If you're wondering in what other ways to support, please note that money is not all that we need: we need material support too: a vehicle (short-term), laptops, lodging (in the towns and cities we'll be visiting), cameras (and accessories), fuel, food, airtime, data, workspace — name it.
In short, support with whatever you have.
Donation link (local): https://travu.ng/donate/
Cash transfers (local): Homestead Nig Ent (UBA Acct 1015558184).