Super Eagles star Osimhen to undergo surgery over fractured eye socket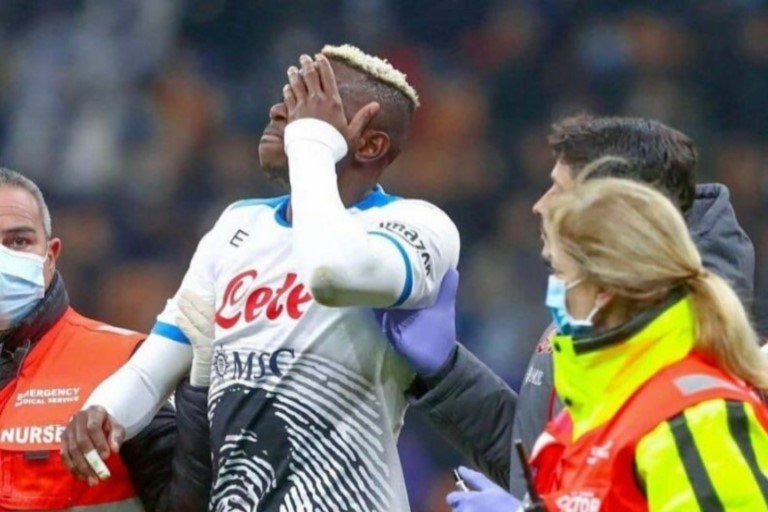 Victor Osimhen, a Super Eagles striker, will have surgery today (Tuesday) after shattering his cheekbone and eye socket in Napoli's 3-2 loss to Inter Milan on Sunday.
The 22-year-old, who now has nine goals in 14 games for Napoli this season, was replaced in the 52nd minute after a brutal collision with Inter Milan's Skriniar.
Napoli's first league defeat came against Inter, and Osimhen's likely long-term absence will be a setback in their quest for a third Serie A crown.
Napoli, the Italian Serie A champions, acknowledged the severity of the injury on Twitter, saying the attacker "will have surgery today in Naples."
According to reports in the Italian press, surgery to restore damage to his left eye and surrounding area could keep him out for at least six weeks.
"Osimhen will return to Naples in the evening (Monday evening), will remain under observation and will be operated tomorrow (today) by Gianpaolo Tartaro assisted by the Health Manager of the club Raffaele Canonico," Napoli tweeted.
Meanwhile, the Nigerian Football Federation is waiting to see if Osimhen is ready, as the striker might be out for up to six weeks with the Africa Cup of Nations starting on January 9 in Cameroon.
On January 11, Nigeria will face Egypt in the first match of their quest for a fourth continental title.
Osimhen scored four goals in six games to help Nigeria qualify for the Africa Cup of Nations play-offs in March.
With five goals, he was also a joint-top scorer in qualification for the Nations Cup, which was postponed.