JUST IN: APC settles for direct primaries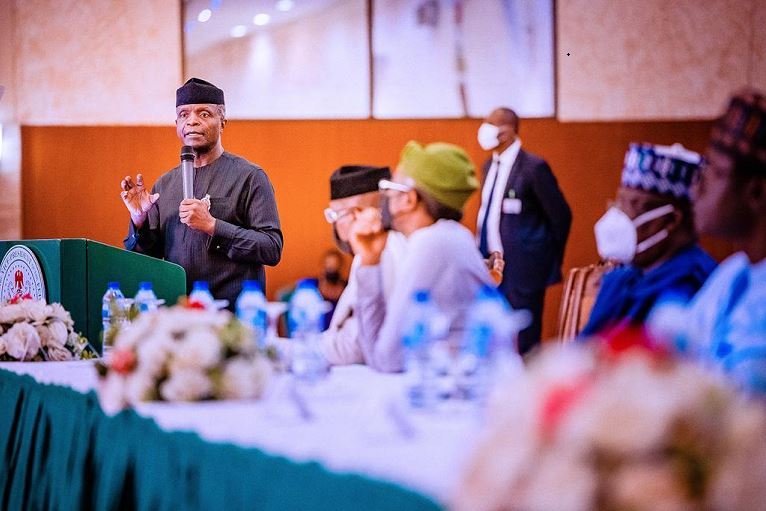 The All Progressives Congress (APC) on Tuesday settled for direct primaries ahead of the 2023 general elections, according to the political aide to the President.
The decision was reached at the Tripartite Consultative Committee of the Executive, Legislative and APC leadership at the Statehouse Conference Center.
The meeting chaired by Vice President Yemi Osinbajo also had governors and National Assembly APC Caucus members in attendance.
Responding to questions from reporters at the end of the tripartite meeting, Senator Babafemi Ojudu, the Special Adviser to the President on Politics, lauded the party leaders for reaching an agreement in a democratic manner.
He also praised Prof. Osinbajo for listening to all parties and all grievances by members of the party.
"The resolution tonight of tripartite meeting is victory for party internal democracy," he said while speaking to reporters.
"Tension was high. Emotions predominated but the Vice President was able to play the role of a great conciliator.
"While the younger elements in the House of Representatives were vehement and uncompromising in the expression of their preference, the Senators were calm but resolute.
He noted that the VP laid out the reasons for calling the meeting and allowed the parties to ventilate.
"It was a victory for the party, the governors and the legislators. We should commend the the party leaders for reaching an agreement in a democratic manner.
"I think the outcome of today's meeting is victory for internal democracy in APC. You recall that, in his sagely wisdom, President Muhammadu Buhari had set up a tripartite mechanism to interface whenever conflicts of this nature arose between the party, the body of governors and members of the National Assembly.
Ojudu explained that the Vice President was acting on President Buhari's mandate. "Acting on the President's mandate, Vice President Yemi Osinbajo called today's meeting to allow for all parties to ventilate their voices in a no-holds-barred manner. It was a family meeting.
"At the end, a common ground was reached, direct primaries was upheld and aspirants under our party can now go back to the people and seek endorsement rather than giving a few delegates the power to decide for all."