Turkish terrorists still active in Nigeria – Erdogan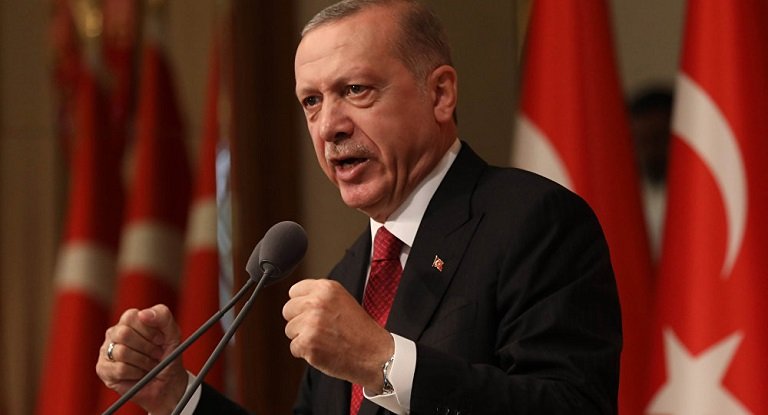 The President of Turkey Recep Tayyip Erdogan has disclosed that those who attempted to oust him in July 15, 2016 through a coup are currently in Nigeria.
Erdogan revealed this during a joint press conference with President Muhammadu Buhari in Abuja on Wednesday, October 20.
The Turkish President arrived Nigeria from Angola on Tuesday night on a two-day visit.
He is expected to depart Nigeria for Togo today, after a one-on-one meeting with President Buhari.
"Turkey has been fighting against terrorist organisations for many decades, such as the PKK, PYD, FETO, DASH and other terrorist organisations," President Erdogan said through an interpreter.
"The perpetrator of the heinous failed coup of July the 15th, FETO, is still illegally active in Nigeria, and we are continuously sharing our intelligence with the Nigerian interlocutors and authorities.
"I hope and pray that our Nigerian brothers will forge a closer solidarity in this field with us, the Republic of Turkey."
He equally sought the collaboration of the Nigerian government to overcome extremism and terrorism that has become a global phenomenon.
The Turkish president also commended President Buhari for hosting him and his delegation.
He added, "The most auspicious results and I would like to thank my distinguished brother, President Buhari, for being such a gracious host for me and for my delegation."
Erdogan arrived in Nigeria on Tuesday night and was welcomed by the Nigerian Foreign Minister Geoffery Onyeama; FCT Minister, Muhammad Musa Bello, the Nigerian Ambassador to Turkey, Ismail Yusuf Abba, and the Turkish Ambassador to Nigeria, Hidayet Bayraktar, at Nnamdi Azikiwe International Airport.
Turkish officials that accompanied Erdogan were the First Lady Emine Erdogan; Foreign Minister Mevlut Cavusoglu; Energy and Natural Resources, Minister Fatih Donmez; Defense Minister, Hulusi Akar; Trade Minister, Mehmet Mus among others.