30 feared dead as bandits attack another Sokoto market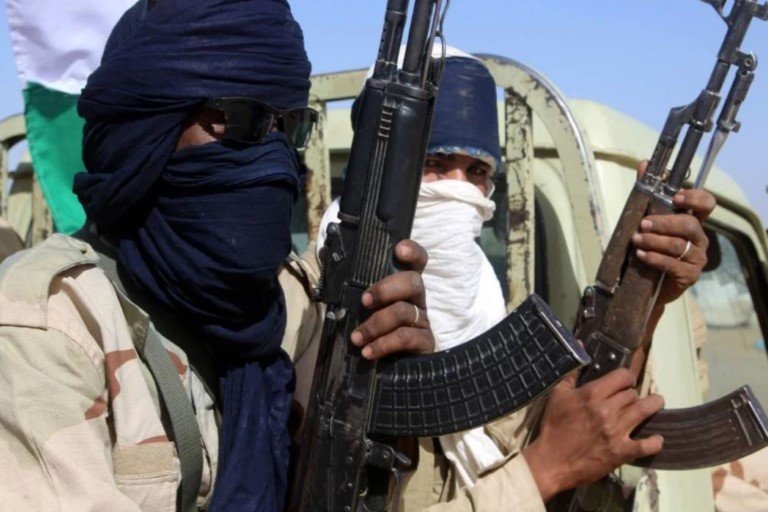 Not less than 30 persons have been reportedly killed by group of armed bandits who raided another market in Sokoto state on Sunday.
It was gathered that the assailants stormed Goronyo market in Goronyo Local Government Area in the Eastern Senatorial District of the State, shooting sporadically and killing unsuspecting buyers and sellers.
The state governor, Aminu Tambuwal on Monday confirmed that about 30 people were feared dead after the attack.
He disclosed this when the Chief of Army Staff, Lt. Gen. Farouk Yahaya paid him a courtesy visit.
"Between last night, yesterday evening till this morning, we were greeted with a very dastardly attack in Goronyo local government, particularly Goronyo Township, where scores and tens have lost their lives and still counting. We're not sure of the figure. But it is 30 something," he said.
The latest attack is the third in a Sokoto market in two weeks.
For several weeks troops have been conducting air and ground operations on bandit camps in neighbouring Zamfara state where authorities have shut down telecom services to disrupt communication between the gangs.
Bandits fleeing the military operation in Zamfara have set up camps in the Sabon Birni district from where they raid villages.
The influx of bandits from neighbouring Zamfara state prompted authorities in Sokoto to suspend weekly markets and shut down telecom towers in areas on the border with Zamfara, including Sabon Birni.
Last month 17 Nigerian security personnel were killed when gunmen raided their base in Sabon Birni's Dama village which the military blamed on Islamic State-aligned jihadists.
Chronicle NG recalls how 20 persons were killed by bandits after an attack on a market at Ungwan Lalle in Sabon Birni Local Government Area in Sokoto state.
It was gathered that the many other people were injured during the attack and are currently receiving treatment at the General Hospital in Sabon Birni while others with life threatening injuries were taken to the state capital for proper care.
According to a former council chairman of Sabon Birni local government, Abdullahi Tsamaye, the gunmen came in large numbers into the market, shooting sporadically and aiming at anybody in sight.
Vehicles and many other other properties were also reportedly destroyed during the attack.
The latest attack came barely 24 hours after a vigilante group killed about 11 persons in the state including an Imam.
Chronicle NG reported that the majority of the victims were of Fulani extraction.
The assailants believed to be the outlawed vigilante group – Yan Sakai, stormed the community at about 3:30pm on Thursday.
It was gathered that majority of the victims had come from different settlements to purchase food and other essentials at the market when they were attacked.
The Yan Sakai were said to have stormed the market from Goronyo Local Government Area, attacking the victims whom they accused of aiding banditry.
A relative of the Imam, Abdullahi Riskuwa, said his brother was killed unjustifiably because he never had any criminal record.
"He is sound in religion knowledge and had been leading prayers in one of our mosques in Salame town."
"His only sin was that he belonged to the Fulani tribe."
According to Riskuwa, Imam Aliyu only went to the market to buy goods when he was killed.
Among those killed at the market, he said, were children and the Yan Sakai went away with their animals.