We are building on your solid judiciary foundation, Attorneys-General tell Osinbajo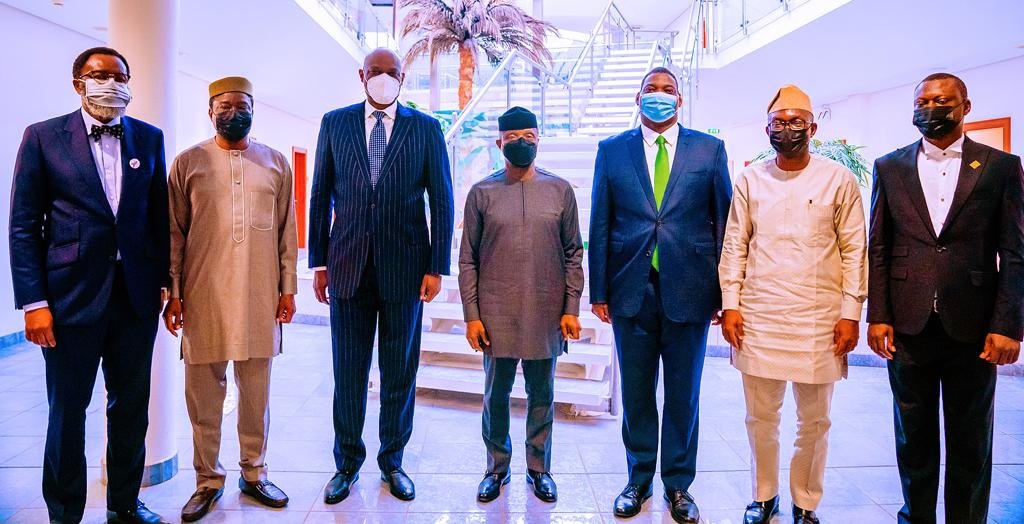 The Attorneys-General from six states in Nigeria have praised Vice President Yemi Osinbajo for the solid foundation he laid as the Attorney-General of Lagos State, noting that, they are building their innovations on his legacy.
The Attorneys-General and Justice Commissioners were led on a visit to the Vice President Osinbajo by the Ekiti State Attorney-General, Mr Olawale Fapohunda on Wednesday.
Others were Lagos State Attorney-General, Mr Moyosore Onigbanjo SAN; Ondo State Attorney-General, Sir Charles Titiloye; Oyo State Attorney-General, Prof. Oyelowo Oyewo; Ogun State Attorney-General, Mr. Akingbolahan Adeniran; and his Osun State counterpart, Mr Olufemi Akande.
Commending Osinbajo for his legacy as Lagos Attorney-General, they said the foundation laid by the Vice President has made it possible for them to implement justice reforms in their respective states.
Lagos State Attorney-General, Mr Moyosore Onigbanjo SAN said, "Your Excellency, you laid a solid foundation upon which we are building on today. The reforms initiated by you as AG have been the basis for what we are doing and have done in Lagos," he said.
His Oyo State counterpart, Prof. Oyelowo Oyewo added that, "We are proud of your achievements and contributions to the development of the judiciary and this great country."
Mr Fapohunda who led the delegation to the Presidential Villa also added his voice. "I align myself to what has been said, we are proud of what you did as AG in Lagos, some of the things being done today are based on your foundational works," he said.
The Vice President expressed delight at the visit and commended the Attorneys-General for the "great work" that has been done in the States, observing the wide range of areas being covered by the Justice Sector Reforms.