2023: Osinbajo more than qualified to be President – Nasarawa Governor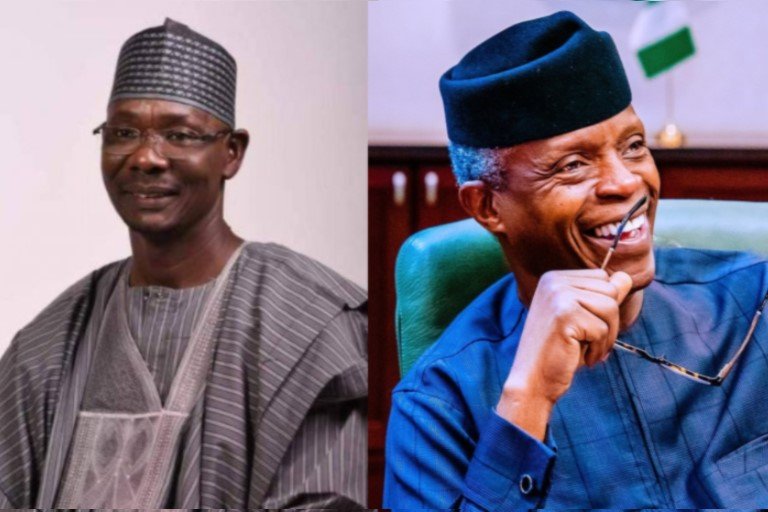 Nasarawa State Governor, Abdullahi Sule has said that Vice President Yemi Osinbajo overly qualified to be Nigeria's number 1 citizen in 2023.
The governor stated this during an interview on Channels TV, Politics Today on Monday night.
Sule stated that he has great respect for the VP and has enjoyed a good relationship with him.
The programme anchor, Seun Okinbaloye asked if he agreed with some members of the APC that Osinbajo is the best candidate of the party. "I've heard people from your party say that the best bet for your party is to put an Osinbajo forward, what's your take on that?
Governor Sule said, "Prof Osinbajo is a loyal VP, he's a man of God, he's a gentleman, he's a professional lawyer, he's a party man, he's more than qualified to be the president of this country," he said when asked for his take on the Vice President succeeding President Muhammadu Buhari.
He added that, "There's no ambiguity, there's no doubt about it. Now the time for it is coming, and that is what I told some gentlemen when they visited me today.
"You see you're visiting me about the person I love, and I admire and I respect; that is Osinbajo. But the man has not started selling himself yet, is he aware you're selling him," he quizzed.
"You know people try to go the extra mile to do this. I'm sure you saw me at the last birthday of Osinbajo so you'll know how much I respect our Vice President.
"Another thing I respect about him which a lot of people might not know about him is his patience. Each time we are having NEC meetings, you'll hear all kinds of arguments, the man will be patient enough. If I sit with you I can keep talking about the good things about Osinbajo, he's different, he's different from the way people are going about selling him.
"The man is already selling himself because of who he is, so that is the way I look at it. I mean he's doing the right thing by waiting, making proper consultations, with the right people, who should say "yes I agree, you should do that; making the right contacts with the party that will say we believe we should send this to that, so he's not running earlier than himself. Because how about if anybody will be telling you the best person is Osinbajo and then they come and say "okay no we are zoning it to the Southeast, we are zoning it to the north east, or even to the North central," he added.
Meanwhile the Office of the Vice President has repeatedly stated that the Vice President has not declared his ambition to run for 2023 presidential election.
Although he is believed to be the overwhelming favourite to succeed President Buhari given his track record and his ability to solve colossal problems.