Two killed, teacher abducted as bandits attack another Kaduna community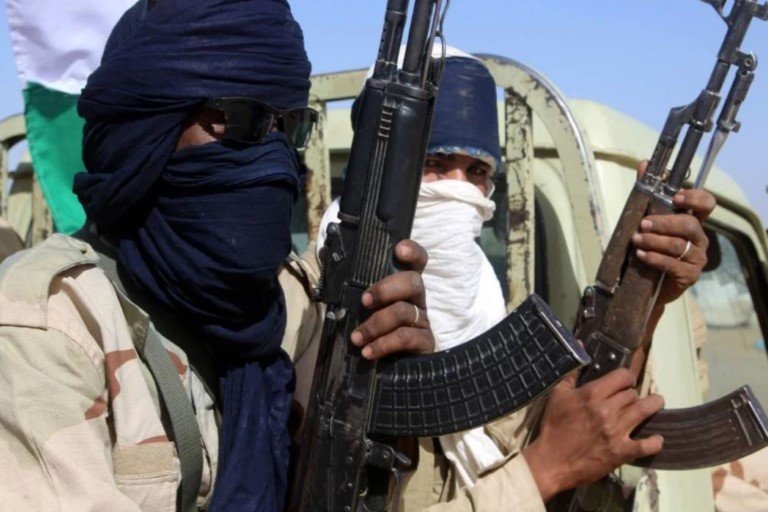 Armed bandits have reportedly attacked another Kaduna community, killing two residents and kidnapping a teacher.
It was gathered that the assailants stormed Kuregu community in Zaria local government area of the state on Friday night with sophisticated weapons.
Unfortunately, two persons were shot dead while an Arabic and Islamic studies teacher was whisked away to an unknown location.
The Kaduna state police command was yet to confirm the incident, as the image maker was not yet briefed on the situation as at press time.
The latest development comes after three bandits who are suspected to be behind the abduction of over 100 Bethel Baptist School Students in Kaduna.
The suspects, donned in military camouflage were paraded at the Police Force's headquarters in Abuja.
Few days ago, residents of Zangon-Kataf community called on the government to rescue them as they were under seige by bandits who have continued to kill, maim and destroy everything in their path.
Chronicle NG recalls that the president of Atyap Community Development Association (ACDA), Dr. Samuel Achie who spoke on behalf of the community called on the Federal and state government to assist them before it is too late.
Achie stated that thousand of Atyap people have been sacked from their homelands and are living as Internally Displaced Persons (IDP) in other communities.
He said: "On behalf of the peace-loving people of Atyap, we condemn the attacks in its entirety and call on our citizens to be law abiding and continue to pray to God to deliver us from all the unwarranted attacks."
He thanked some members of the community for establishing IDP camps in Madachip and Zonkwa to cater for the displace people from the various communities saying; "The assistance received at the camps were clear indications that we have good spirited individuals and groups who are very much concerned on the plight of the Atyap people to the extent of making such sacrifices with various donations since the inception of the camps."
"From August, 2021 to date, 41 people have been killed in different attacks. Three people were killed in Gora Gida and one car burned, a woman was killed in her farm in Unguwan Jaba, four persons in Abuyab, one in Manchong, 17 were killed in Madoo and houses burned down while two people were killed in their farms in Kurmin Masara.
"Apiyejim/Kibori, where 13 people including the Senior Reverend of ECWA Church, were killed in Zango river basin on his way from Kafanchan. With these occurrences, I have every reason to inform my fellow Atyap sons and daughters at home and in diaspora, the world at large that the entire Atyap community is under siege.
"We call on all to come to our rescue before we are all eliminated in our ancestral land. We will through prayers and supplication continue to make our request for peace known to Him."