Michael Jordan makes $7m from Lionel Messi's PSG shirts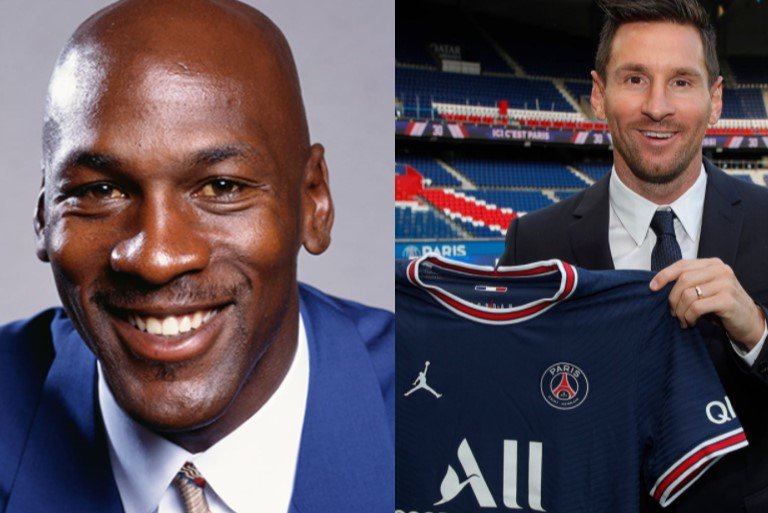 National Basketball Association (NBA) legend Michael Jordan has reportedly earned $7 million from Messi's record-transfer to Paris St Germain (PSG) from Barcelona.
Six-time Ballon d'Or winner Lionel Messi was forced to make a free transfer to PSG due a financial crisis at Barcelona after 21 years at the club.
Though Messi joined PSG for free, the Argentine made sure he remained the highest-paid footballer for the 2021-2022 season.
A two-year deal with PSG means Messi is earning a salary of around 1 million pounds per week.
The PSG-Jordan partnership
In 2019, Paris Saint Germain had teamed up with Jordan's fashion line to increase the popularity of the Ligue 1 club across the world. From the team's official jersey to training attires, all of PSG's clothing has the famous 'Jumpman' logo of Jordan's insanely popular fashion line – Air Jordan.
Though all of PSG's shirts belong to the house of Nike, the club kits are sold under the US-based multinational corporation's sub-brand – Air Jordan. The special PSG-Jordan partnership has sky-rocketed the club's jersey sales since 2019. The record-breaking signings of Neymar from Barcelona and Kylian Mbappe from AS Monaco had already made PSG a force to reckon with in club football.
The capture of Barcelona legend Messi might also paved the way for the Ligue 1 giants to shatter records in terms of jersey sales this season. According to multiple reports, PSG have made a fortune in jersey sales by simply signing Messi from Barcelona. As per an Insider report, NBA legend Jordan receives a 5% share from the jersey sales of the Paris-based club. A single PSG jersey sold under the Air Jordan brand with Messi's credentials reportedly has a retail price of $162.
According to Argentinian media outlet TyC Sports, Jordan has minted $7 million from Messi's move to PSG inside the first week of the blockbuster transfer. According to Forbes, Jordan has managed to earn an estimated $1.3 billion in partnership with Nike. Messi, who has chosen to wear the No.30 jersey is yet to make his debut at PSG. Despite not playing a single minute for his new club, Messi has managed to boost PSG's fan following. Both Messi and Neymar played no role in PSG's recent 4-2 away win at Brest on Friday.