Record 482 migrants cross English Channel in one day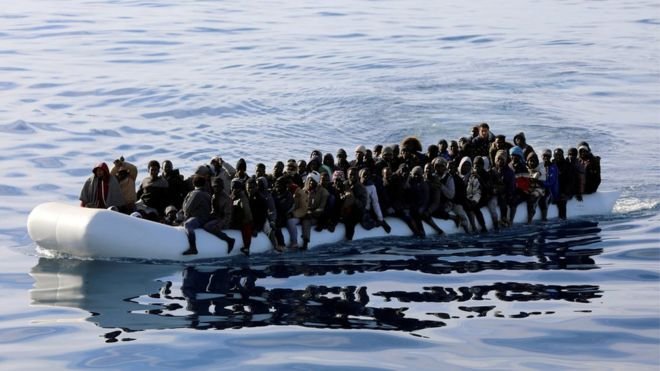 No less than 482 migrants on Wednesday crossed the English Channel in 21 small boats, setting a new record for a single day crossings, the UK Home Office has said.
The Ministry of Defence had earlier confirmed that an exercise on its firing range at Hythe had to be stopped when people landed on the beach there.
According to Home Office figures, there have now been 10,236 arrivals in 434 boats so far in 2021.
The Home Office said French authorities had stopped 246 people from crossing.
Dan O'Mahoney, clandestine Channel threat commander, said:   "These dangerous small boat crossings, facilitated by criminal gangs, are putting lives at risk.
"These numbers are unacceptable, that's why we are taking action on all fronts.
"Law enforcement agencies are dismantling the people smuggling gangs. Joint work with the French has seen a doubling of police officers on French beaches."
The previous highest totals of daily arrivals on small boats were 416 people on 2 September 2020, and 430 migrants on 19 July.
Bella Sankey, director of charity Detention Action, said: "Overall asylum applications are dropping and much lower than they were in the 2000s, but the number of high Channel crossings shows that desperate people trying to save their lives will risk everything to reach safety.
"MPs need to act swiftly and should pass legislation to allow those with strong prospects of receiving protection here safe passage to the UK from northern France to seek asylum here."
Despite repeated promises from Home Secretary Priti Patel and her department to make the route across the Channel "unviable", crossings have continued to rise.
Last month she announced an agreement to more than double the number of police patrolling French beaches, with the government to give France £54m.
Earlier this week, Ms Patel met with members of the Greek government to discuss "shared challenges", during the visit she went on patrol with the Hellenic coastguard to learn about their methods for preventing small boat crossings.
Steve Valdez-Symonds, Refugee and Migrant Rights Director at Amnesty International UK, said: "The reason people are putting themselves in serious danger with these Channel crossings is that there are simply no safe alternatives open to them.
"On a global scale, very few people seek asylum in the UK and politicians need to stop peddling myths and stoking hostility toward often vulnerable people who've experienced persecution and trauma."
In June, Kent County Council said it would not be taking on any more unaccompanied asylum-seeking children who arrived in small boats as it has reached "the limit of safe capacity".
Last week, members of the home affairs committee said women with babies and very young children were among 56 migrants being held in a cramped room covered with thin mattresses at a unit in Dover.
They said it was "wholly inappropriate" and a clear Covid risk, with some migrants held beyond legal limits.
The Home Office said it takes the welfare of migrants seriously.