Nigeria Police uncover AK-47 production factory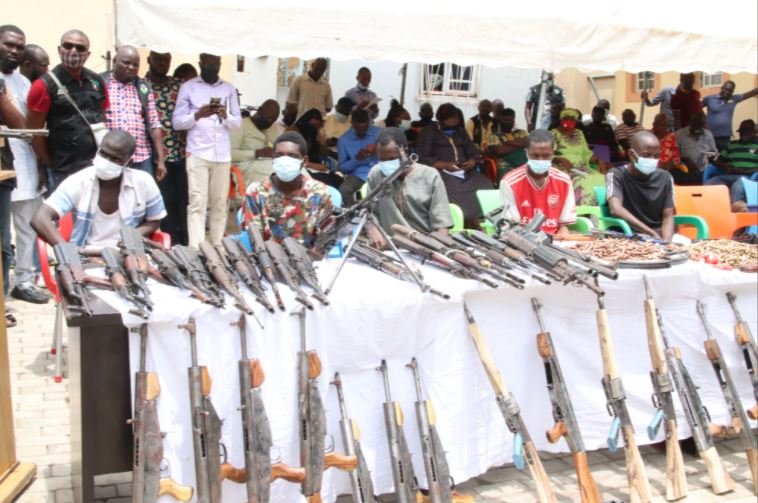 A local AK-47 fabrication factory has been uncovered by the Nigerian Police Force in Jos South Local Government Area of Plateau State.
Two suspects believed to be behind the factory were paraded on Wednesday along with others arrested across the country.
Seventy nine others, suspected to be kidnappers, bandits, armed robbers, gun runners, and producers of fake number plates were also paraded by the police.
The names of the weapon fabricators were given as Joe Michael and Iliya Bulus.
Police spokesman Frank Mba told reporters that the suspects were arrested by operatives of the Intelligence Response Team (IRT) and Special Tactical Squad (STS).
Mba described the Jos- fabricated AK-47 as a masterpiece that would require extra knowledge of an expert to differentiate it from the ones made in Europe.
He said during the raid on the factory, 20 pieces of the gun were recovered by the operatives, who for a long time, were on the trail of the suspects.
The spokesman said: "If you look at these weapons locally-fabricated by the suspects, there is no difference from others imported. Unless you are trained, you will not be able to spot the difference. They use the same magazines.
"We will follow up to track down those behind this, we will continue to deepen our intelligence, and continue to work with other sister security agencies to check the proliferation of illegal arms in the country."
One of the fabricators, Michael, who attended a technical college in Jos, told reporters that he had so far fabricated about 180 units in the last three year which he sold at N80, 000 each.
The suspect also claimed that he acquired the skill from his late boss, whose name he gave simply as James.