Trump supporters chant 'Stop the steal' outside election center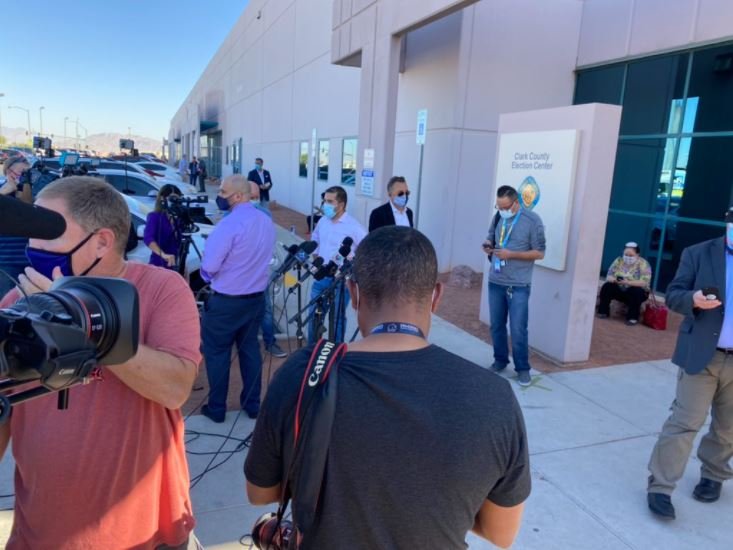 About 75 vote challengers toting signs, waving flags and wearing Trump shirts gathered for a brief protest outside the Clark County Election Center in Nevada where poll workers are certifying 2020 general election ballots.
They chanted "Stop the Steal," and one man wearing an American flag mask told cameras, "It's time for the purge."
A heckler briefly interrupted Clark County Registrar Joe Gloria during his press conference on the election count. pic.twitter.com/j9AEnQqnb2

— KSNV News 3 Las Vegas (@News3LV) November 4, 2020
On Wednesday, multiple Twitter profiles began promoting a #StopTheSteal protest in front of the Clark County Elections Department.
The group gathered around 7.30 pm but then began dispersing about a half hour later.
#StoptheSteal protest outside of the Clark County Election Department Wednesday night aside to a #CountEveryVote protest. #rjnow #2020Elections pic.twitter.com/WN1X0n4NKq

— Elizabeth P. Brumley (@EliPagePhoto) November 5, 2020
Elsewhere, hundreds of state police and left-wing protesters were locked in a tense standoff in downtown Portland late Wednesday after rampaging anti-Trump groups smashed shop windows a day after the election, prompting the state governor to activate the National Guard.
The Multnomah County Sheriff's office declared a riot and made at least nine arrests, citing "widespread violence" in the city's downtown area and repeatedly warning it could deploy munitions and tear gas.
Armed police advanced on demonstrators in unison but there were no clashes, according to an AFP reporter at the scene.
Meanwhile, Joe Biden was pushing closer to the 270 Electoral College votes needed to carry the White House, securing victories in the "blue wall" battlegrounds of Wisconsin and Michigan, and narrowing President Donald Trump's path.
Two days after Election Day, neither candidate had amassed the votes needed to win the White House. But Biden's victories in the Great Lakes states left him at 264, meaning he was one battleground state away — any would do — from becoming president-elect.
Trump, with 214 electoral votes, faced a much higher hurdle. To reach 270, he needed to claim all four remaining battlegrounds: Pennsylvania, North Carolina, Georgia and Nevada.