Northern Hegemony vs Almajiri: A Contradiction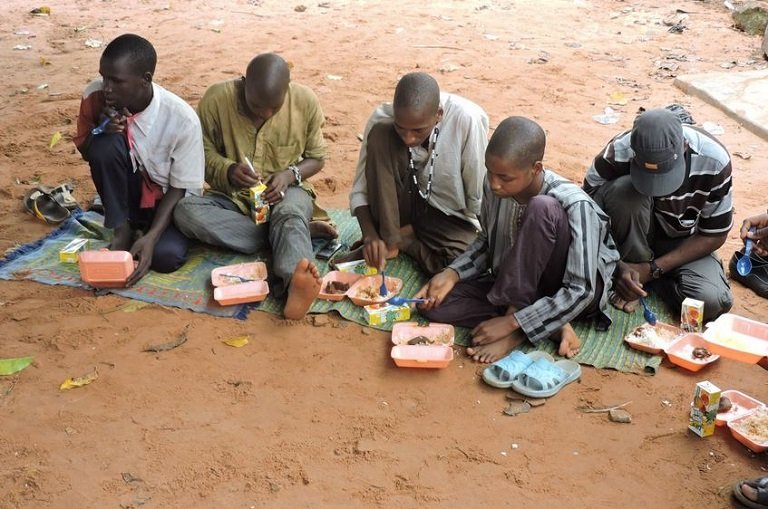 The Insight by Lateef Adewole
"Omo tí a kò kó, ni yio gbélé tí a kó tà." (The house that we built will be illegally sold off by the child that we refused to build- train).
It is not the northern part of Nigeria that one would ordinarily have expected to be bedevilled with the many challenges that the region has been facing for a long time, including the menace of almajiri system, if occupation of the positions of leadership in Nigeria, be it political, civil or military, is to be a yardstick for measuring the wellbeing of a group of people.
This is because, historically from independence till date, people from the northern extractions have occupied the majority of important positions in the government of Nigeria, especially the topmost one, either as military heads of state or civilian presidents, when compared to the southern part.
Since 1960, when Nigeria attained independence, which is almost 60 years now, Nigeria has had 13 persons in the topmost job of midwifing the affairs the country, nine of whom were from the north (69.2%), while only 4 persons (30.8%) were from the south. Cumulatively, the north has ruled Nigeria for 44 years (73.3%) out of 60 years of independence, while the south ruled for 16 years (26.7%).
There were 29 years of military rule with nine heads of state, seven of them (77.8%) were from the north and ruled for 25 years (86.2%), while the south produced two persons (22.2%), who ruled for less than four years (13.8%). There were 31 years of civilian administration with seven presidents. The north has produced four presidents (57.1%) who spent 18 years (58.1%), while the south had three presidents (42.9%), who spent 13 and half years (41.9%).
This is without going into further details of all other offices in the political space, military, civil and public service, which are too numerous to highlight here, that were also occupied by many northerners and still being occupied till date. The north has 19 states (53%) of the total 36 states of the federation and 417 local government areas (53.9%), as against 357 in the south (46.1%) in 17 states (43%). In the national assembly, the north has 57 senators (53.2%) with 51 (46.8%) from the south. There are 191 members (53.1%) of the house of representative members from the north against 169 (46.9%) from the south.
And in a country where allocations are shared based on states and local governments, after the compensatory 13% derivative has been deducted to take care of the destructions unleashed on the places where the mineral resources are produced all these give skewed advantages to the northern Nigeria.
So, with this background, one would have expected massive developments in the north with its attendant human capital development, but this is not the case. In fact, many infrastructures that littered the region were basically provided by the federal government at one point or another. Many state governors and the local government leaderships often go to sleep. This is made possible because, there is little or no demand for good governance and accountability from the political leaders by the citizens from the region.
More often than not, the political leadership deploys religious sentiments to hoodwink the masses in the north to maintain their grip on power. Unfortunately, the same masses make themselves ready and willing tools in their hands. Why has this remained the modus operandi of the leadership? The lack of inadequate quality education. And this seems to be deliberately made so.
Effectively, there are two classes: the privileged few and the underprivileged majority. The privileged few are those who held on to the lever of control, devising all means to manipulate the majority. They pretend to love them, represent and fight for them. While in reality, the reverse is the case. They only love themselves, are only representing and fighting for their personal interests and that of their immediate families and cronies. But they do so with the help of the same poor masses.
I have given a bit of this background for a clearer understanding and to shine light in the direction of our discussion.
In the past few weeks, the issue of almajirai in the north has reared its ugly head again. This became pronounced when northern governors began to round up these kids, bundle them into trucks or buses, and ship them to other states where they claimed the kids hail from (their states of origin). This was said to be an agreement at their northern governors forum sometimes ago.
In this process, the efforts of the federal government and many states at curbing the spread of Covid-19 are being jeopardised, as many of these Almajirai were said to test positive. With that mishandling of their cases, they possibly would continue to transmit the virus across the states. Is this what the governors bargained for?
About 1 year, 4 months and 11 days ago (12th of January, 2019), I wrote an article on this menace: "Almajiris and the hypocrisy of our Muslim elites". That was prompted by an incident at the time that involved Reverend Father Matthew Hassan Kukah, the Bishop of the Catholic Diocese of Sokoto. While attending an Interfaith Dialogue and Engagement programme, hosted in Minna, Niger State. Fr. Kukah stated that his foundation, The Kukah Centre, planned to gather and train 10 million almajiri children from across the northern Nigeria. All hell was let loose. He was attacked from left, right and centre by many prominent Muslims and Islamic organisations from across the country. He was accused of planning to "convert" these children to Christianity, his religion.
Many articles, commentaries, opinions, etc, flew all over. That's almost one and half year ago. Since then, what happened? Nothing or nothing much. I cannot say if Fr. Kukah did or did not abandon that project as I did not hear much of it since then. What about the Muslim elites and their organisations who criticised him? They did nothing as well. Their "love" for the Muslim children (almajirai) ended with the prevention of Kukah from converting them to Christianity through the training programme that his foundation planned to give them. So, who truly loves the kids more between the two? I leave that to each person's conscience. After all, like the Yorubas will say; "oun a ba fi sile, l'enu ewure nto" (it's what is left carelessly on the ground that a goat can easily access).
In that article, I delved into more details of how the almajiri system came about and the attendant consequences of their perennial neglect. Since then, nothing has changed. I also chronicled how these little children continued to grow up under most inhuman conditions without an iota of love. They move around begging for means of sustenance, under cruel situation. They eventually become teenagers and younger adults with no western education, vocational training or skills to fend for themselves.
They become potent pool from where all kinds of criminal groups recruit. The terrorism by Boko Haram and their affiliates has been on for 11 years. It is sustained by human beings. Where are they from? They are majorly from among the pool of idle hands, struggling for survival across the northern Nigeria. These criminal groups simply entice them with basic needs of livelihood with promise of more to come, to swell their ranks.
The veracious nature of unending attacks within the northern sphere of Nigeria in the past few years remains unprecedented. They have been scaled up and in more deadly proportions. Gory pictures from scenes of attacks by killer herdsmen, bandits and kidnappers can only depict acts by people who have known no love for human beings like them in their lives. They butcher people, rape, maim, raze down communities, destroy farmlands and harvests. They ooze vengeance.
Unfortunately, it is like "dogs eating dogs". This is because, if they do all that out of anger from being neglected by the society, apart from their criminal tendencies, they have chosen the wrong targets to pour their venom. They are simply killing, maiming and destroying other people in similar situation as them, who only chose not to take the route of criminalities. Most of their victims are also victims of wicked society.
In this article, I focused particularly on the leadership in the north, who should be held responsible directly or indirectly, for the situation, given that they are direct "beneficiaries" of these mass of "idle" people. In my previous article on it, I directed it to Muslim elites, including those from the southern Nigeria, given that some of the people who criticised Fr. Kukah then, in "loudest" voices, were from the south. But, they still did nothing afterwards.
Coincidentally, it was some weeks to the 2019 general election, with the presidential election just six weeks away when I wrote that article. From the campaigns then, the people who populated the crowds included the almajirai and their "senior" fellows. They trooped out, lined the roads, wave hands and their shouts of "sai baba" rented the air. They did all these, just as they have always done from time immemorial for political gladiators, with the hope that they will be remembered and their lots will be better once their political leaders get to offices. They came out on election days to vote massively for them, which always brought them to power. But alas! They were wrong, as they have always been wrong. The leaders failed them, just as they have always failed them.
I can remember how a prominent politician from Kano boasted about how they used the same "Almajiri" to kick former President Jonathan out of office. Such is the social contract between the leaders and the led. And that is where it often ended; their votes! That was why I referred to them as the beneficiaries of the misnomer system. Moreover, keeping them perpetually down like that is to the benefits of the hegemonic elites. They will have no worries from being challenged and their children too will face lesser or no competition, since almajiri's are not be in position to compete with their own western educated and well qualified children. We see them everywhere.
So, a comparison of the benefits of power that the elites in the north have enjoyed over the years since the Nigerian independence, with the almajiri system that is preponderance in the north depicts a stark contradiction. This imbalance needs to be addressed sooner than later, before it will consume the same elites it benefits.
Going forward, the illegal "deportations" of these children by the northern governors to the states they hail from must stop. If not for the inhumanity it portrays at least for the crisis of rampaging Covid-19 that is ongoing. The country cannot afford leakages in the minimal efforts being deployed currently with the possibility of continuous spread through migrating almajiri.
Also, the leaders from the north need to do self-examination and sober reflection on the fate of these kids. Each and every one of these leaders give their own children the best of education in Islamic, Arabic, and western. Many of them send their children to best of private schools and even abroad for further studies in the various universities in Europe, Asia, Arabian Peninsula, America and Canada. Why then do you neglect these Almajiri children?
No one is asking that they be sent abroad. All we ask is to provide good and quality public schools they can attend under humane conditions. Provide basic needs as feeding, accommodation, healthcare and other welfare for them. This isn't asking for too much I suppose. After all, they are the people you unleash on the rest of us to vote for you and your candidates during elections. By the way, where are the 165 Almajiri Integrated Model Schools established by the former President Jonathan? Abandoned because of politics.
These children were created just like any other. They only lack the opportunity to strive. With proper education and welfare, their potentials will emerge and can be chanelled to more productive ventures as they grow up, rather than being harvested by criminals and terrorists as being the case for so long. "Owo t'oba d'ile, l'esu n be n'ise" (devil finds work for an idle hand).
Increase in enlightenment of the citizens is imperative. The freedom granted by Islam to marry more than one wife should never be misinterpreted, misunderstood or misapplied. There are conditions precedents. In like manner, giving birth to numerous children that they are not willing or capable of taking care of should be discouraged. Islam abhors begging. No one should procreate, only to abandon them with some mallams with no care in this world. It's irresponsibility. That's completely unIslamic.
Governments at all levels should enact laws that will caution people from engaging in such irresponsibility without infringing on their religious rights. People must be punished appropriately to serve as deterrent to others. The north cannot continue to be lackadaisical about this. Moreso, they do not bear the consequences alone. We all suffer it.
May God continue to protect us and guide us aright.
God Bless Nigeria.
Lateef Adewole is a political analyst and social commentator can be reached by email lateefadewole23@gmail.com or via WhatsApp +2348020989095 and @lateef_adewole on Twitter