Innoson to produce armoured vehicles for Nigeria Police
Innoson Vehicle Manufacturing Company Limited will produce Armoured Personnel Carriers (APC) for the Nigeria Police Force to assist in crime fighting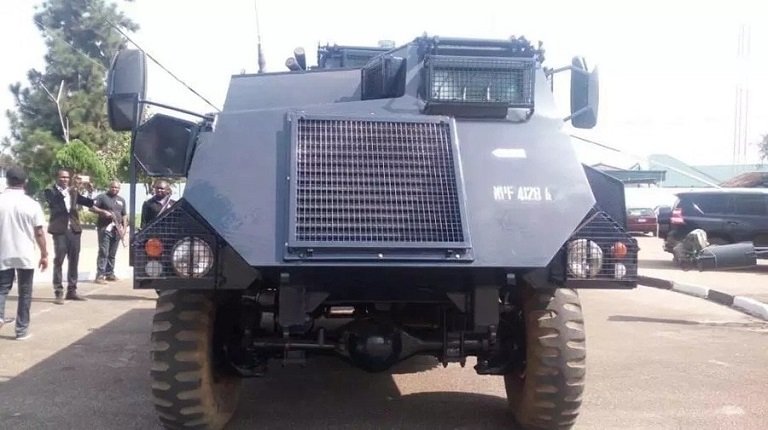 The Nigeria Police Force has expressed readiness to partner with Innoson Vehicle Manufacturing Co. Ltd. for the production of Armoured Personnel Carriers (APC) to assist in crime fighting.
The Inspector-General of Police, Mr Ibrahim Idris, expressed the readiness on Friday at the inauguration of IVM Granite vehicle, 2019 edition manufactured by the indigenous company in Nnewi, Anambra.
Idris commended Innoson for providing camouflaged vehicles for the Nigerian Army to tackle insecurity.
Idris, who was represented by the Deputy Inspector-General in charge of Logistics and Supply, Mr Agboola Oshodi-Glover, also called on other organisations to support the locally made vehicles.
"Innoson is making history. This type is rare. I congratulate you and want to assure you that police will give you all the necessary supports you need.
"But you need to commence production of Armoured Personnel Carriers to enable the police tackle insurgents and other security challenges in the country," he added.
Also, Governor Willie Obiano of Anambra praised the ingenuity of the company amidst apparent challenges in the industry.
"I am happy this is happening in our state. It's only here that we're manufacturing vehicles. Others travel to other countries and gather parts to assemble in Nigeria," he said.
Obiano, however, expressed regret that the epileptic power supply in the state had hampered some production capacity of the company.
The governor urged the Federal Government, as a matter of urgency, to provide adequate power supply and enabling environment for maximum productivity.
READ: NNPC denies cash gift to Buhari's campaign organisation
He also appealed to state and Federal Governments to commence placing orders on the vehicles produced by IVM.
"With what Innoson is doing, he is contributing immensely to the nation's GDP and should be encouraged to do more," Obiano, who was represented by his deputy, Dr Nkem Okeke, added.
Earlier, the Chairman of Innoson Vehicle Manufacturing Company, Chief Innocent Chukwuma, said the company's major strength depended on its ability to produce according to clients' specifications.
"The fact that the Nigerian Police vehicle operate in diverse and dangerous terrains as a result of its functions, Innoson vehicles can produce specific operational vehicles that will meet the operational requirements of the Nigerian Police.
"This pick up is built for our roads and it's in line with the latest generation of international brands of high end pick up," he said.