UK Court extends jail term of 'Juju' nurse Josephine Iyamu for sex trafficking
The jail sentence of Josephine Iyamu who used 'voodoo' to traffic women from Nigeria into Europe to work as prostitutes has been increased to 18 years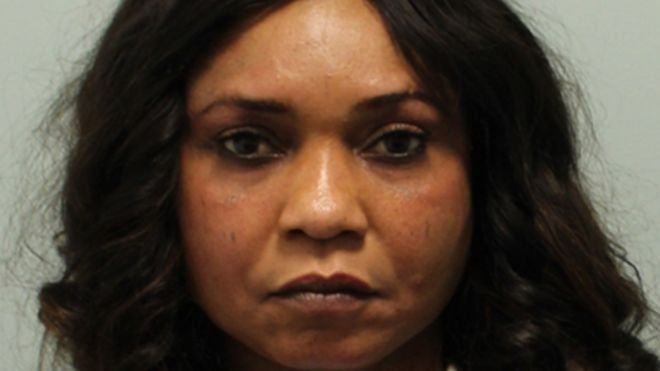 An NHS nurse who used 'voodoo' magic to traffic vulnerable women from Nigeria into Europe to work as prostitutes has had her jail sentence increased to 18 years.
Josephine Iyamu, formerly of south Londonn, was jailed after she used a witch doctor to convince her victims they were under her control and exploited them to fund a lavish lifestyle including trips to Europe and £700 designer shoes.
Solicitor General Robert Buckland went to the Court of Appeal on Thursday to challenge the initial jail term of 14 years handed out in July this year.  
As she tearfully watched the proceedings via videolink from prison, Mr Buckland urged three judges to find that the sentence imposed at Birmingham Crown Court in July was 'far too low' and should be increased.
After a hearing in London, Lord Justice Davis, Mrs Justice Simler and Mr Justice Dove ruled that the total sentence imposed on Iyamu, now 52, was 'unduly lenient' and upped it to 18 years.
Announcing the court's decision, Lord Justice Davis warned that others found guilty of such 'grave' offences could expect severe sentences.  
The 51-year-old was a ringleader of an international human trafficking crime network and lived in a huge Nigerian mansion complete with a servants' quarters.  
Liberia-born Iyamu, who was made a British citizen in 2009 having been allowed to stay in the UK due to her nursing qualifications, organised the travel of five women from Nigeria to Germanyy.
She was the first person to be prosecuted in the UK for arranging or facilitating travel for sexual exploitation of victims with no connection to Britain – and was sentenced to 14 years behind bars on July 4.
Iyamu was found guilty at the end of a 10-week trial of five offences under the Modern Slavery Act, and also of perverting the course of justice while on remand by arranging for relatives of the complainants in Nigeria to be arrested.
Passing sentence, Judge Richard Bond told the married nurse that her 'vile' offences had left the women in fear of their lives.  
Iyamu charged each of her victims €30,000 and €38,000 to arrange for their travel to Europe – profiting from more than €15,000 from one victim alone via wire transfers and cash payments.
The victims would then be forced to endure an arduous journey to the Libyan coast – which saw them shot at, ambushed and gang raped.
They would then catch an inflatable boat crammed with hundreds of people to Italy before being moved into Germany to work as prostitutes.      
Iyamu forced one of her victims to have an abortion in Italy after being raped and impregnated on the journey. 
The judge said she would have been fully aware of the dangers involved in a four-week land journey across the Sahara to Tripoli in Libya, followed by a sea voyage on inflatable boats.
The court heard during the trial that Iyamu made her victims swear oaths to hand over money during 'juju' ceremonies which saw them ordered to eat chicken hearts, drink blood containing worms, and endure powder being rubbed into cuts.
The prosecution said it was clear that Iyamu, known as 'Madam Sandra', had travelled extensively across Europe and into Africa on a regular basis to meet victims.  
READ: Italian judge jails two in Nigerian oil corruption case
German police identified Iyamu as the ringleader of a Nigerian human trafficking operation after a brothel owner reported suspicions over one of his workers' paperwork last January.
Iyamu and her husband Efe Ali-Imaghodor, 60, were arrested at Heathrow Airport on August 24 last year after travelling back from Nigeria.
Police found her in possession of seven mobile phones and more than 30 SIM cards linked them to the German investigation.
Officers also discovered a piece of paper detailing a list of items needed as part of the 'Juju' ceremonies and another with telephone numbers of criminal associates.
Iyamu had worked 37 days in 2016/17 as an agency nurse in south east London hospitals for NHS Capitol Staffing Services.
She lived with husband Ali-Imaghodor, a cloakroom attendant, in an ex-council home in Bermondsey, south east London.   
The National Crime Agency (NCA) investigation found the victims – aged 24 to 30 – were made to undergo Juju rituals which exercised a control 'tighter than chains.'
They were so terrified by the threat of voodoo magic that they had to undergo another black magic 'revokation' ceremony to undo the oath they took to pay Iyamu.
Kay Mellor, NCA senior investigating officer, said Iyamu, originally from Liberia, became a British citizen in 2009 due to her nursing qualifications – which allowed her to be prosecuted in the groundbreaking case.  
She is the first British national to be convicted of human trafficking crimes not involving British victims and which were not committed in the country.
Ms Mellor said: 'She was a registered nurse, she was an agency nurse and that totally goes against for me what a nurse is – somebody who looks after people, who makes them better and certainly what she was doing was totally opposed to what in my mind a nurse should be.'
The trafficking investigation – Operation Redroot – began after one victim was arrested and told German police of Iyamu's crimes. The victim's phone was then wire-tapped to gather evidence.
The prostitute last January told German police she was born into a 'relatively poor family' in Nigeria and was told she could earn huge amounts of money working as a prostitute in Europe.
Juju is a form of voodoo with 'highly respected' priests in West Africa.
The Nigerian victims visited the priest multiple times and for up to a week as part of the oath-swearing ceremony.
Ms Mellor said: 'They exert an insidious control which an expert witness has said is more powerful than chains.'  
Describing the ceremony, the officer added: 'They were given blood containing worms to drink.
'A chicken was used to hit her naked body on the back and on the chest. She had to eat the heart of the chicken which had just been killed. And the priest would cut their skin and mouth with a razor blade.'
Iyamu then took snippets of her victims' head and pubic hair and kept them in individualised packages and she told the girls: 'You have now eaten from the devil and if you do not pay, the devil will kill you.'