LeBron James regrets giving son his name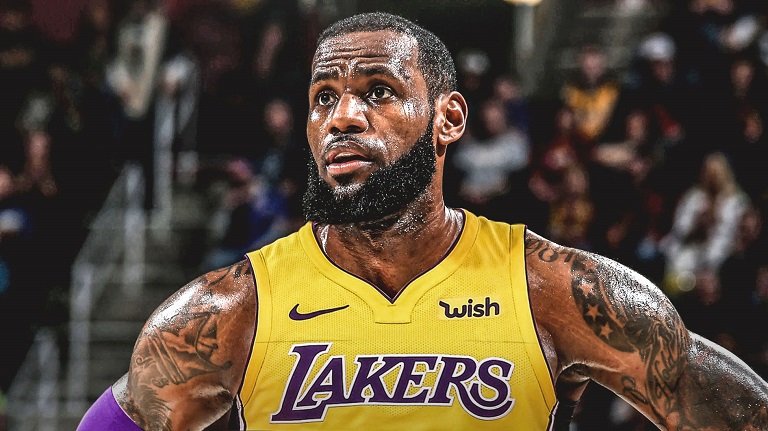 US basketball star LeBron James says he regrets naming his son LeBron James Jr because of the pressure it places on him to reach the same level of success.
"I still regret giving my 14-year-old my name," he said in the first episode of his new HBO TV series, The Shop.
"I still regret giving my 14-year-old my name." – @KingJames

This and more real, unfiltered conversation with @OBJ_3, @mavcarter, and more in UNINTERRUPTED's unscripted series THE SHOP.

First episode dropping 8/28, exclusively on @HBO. pic.twitter.com/zIoxEgBnJn

— UNINTERRUPTED (@uninterrupted) July 26, 2018
The clip, which was filmed in Los Angeles, is scheduled to air in August.
James, 33, moved to the city earlier in July after signing a four-year deal with the LA Lakers basketball team worth $154m (£116m).
In footage from James's new show which was shared on social media, US comedian Jon Stewart asks the sports star about his family and how he reassures his children, especially LeBron James Jr – better known as Bronny – over expectations to live up to his success.
READ: Nigeria goalkeeper Carl Ikeme retires from football
"They're playing the same sport that you play better than anyone else in the world… how do you give them peace of mind that they don't have to be you?" Stewart asked.
"When I was younger, I didn't have a dad, so my whole thing was whenever I have a kid, I'm going to do everything that this man didn't do," James said, adding: "It's up to them to take their own course, whenever that time comes."
James, a three-time NBA champion with Cleveland and Miami Heat, excited high-profile stars and supporters with his move to Los Angeles – including West Coast rapper Snoop Dogg, who welcomed "King James"
Former player and basketball great Magic Johnson has called James the "best player in the world".