VIDEO: #GSW take #NBAFinals Game1 as LeBron James post record 51pts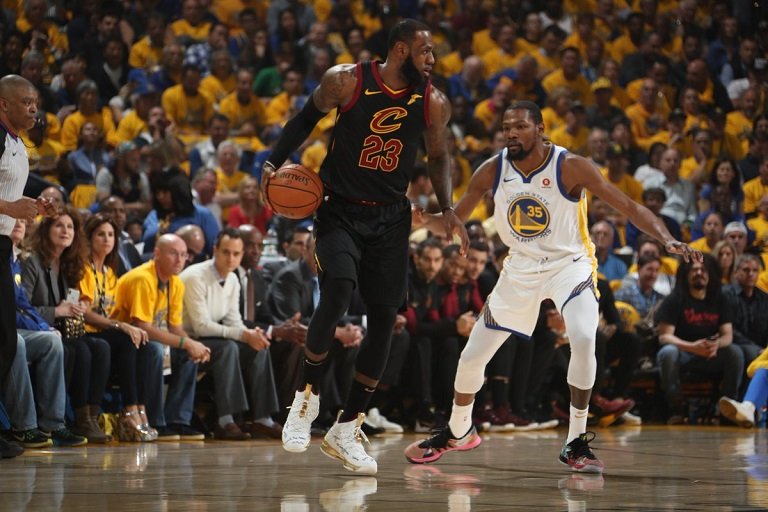 No one knows how to run a one-man show like LeBron James and no one breaks the records and rubbishes the numbers like Cavs star man.
As far as records go, LeBron James erupted for a historic stat line in Game 1 of the NBA Finals, becoming the first player ever to record 51 points, 8 assist and 8 rebounds.
Supporting cast Kevin Love added 21 points and 13 rebounds but their stats were not enough to give the Cavs victory as Golden State Warriors led by Steph Curry took Game 1 on home soil to set the Finals kicking.
Kevin Durant added 26 points, 9 rebounds and 6 assist in the Warriors 124 – 114 Game 1 victory. It was the first game of the series but it was decided in Over Time.
Here are highlights from Game 1
3️⃣2️⃣1️⃣ The TOP 3 PLAYS from an epic Game 1 of the 2018 #NBAFinals presented by @YouTubeTV! pic.twitter.com/QRdReMky8h

— NBA (@NBA) June 1, 2018
After LeBron James' 51 PTS, 8 AST, 8 REB in Game 1… we look back at the best buckets from his 8 40+ point games of the 2018 postseason! #WhateverItTakes #NBAFinals pic.twitter.com/1O4ZJESeSk

— NBA (@NBA) June 1, 2018
READ: Chelsea want Zinedine Zidane, Lampard to make John Terry first signing
Kevin Durant finishes with 26 PTS, 9 REB, 6 AST in the @warriors Game 1 victory at home!#DubNation #NBAFinals pic.twitter.com/7yyASlUsRB

— NBA (@NBA) June 1, 2018
Steph Curry tallies 29 PTS, 9 AST, 6 REB to help the @warriors take Game 1 and go up 1-0 in the #NBAFinals! #DubNation pic.twitter.com/n6WaoAp5UW

— NBA (@NBA) June 1, 2018
LeBron James posts a historic stat line of 51 PTS, 8 REB, 8 AST for the @cavs in Game 1 of the #NBAFinals

Since 1970, only LeBron & Michael Jordan have scored more than 50+ points in a Finals game.#WhateverItTakes pic.twitter.com/6DBC04JMWb

— NBA (@NBA) June 1, 2018
Stephen Curry flipped it over his head to Shaun Livingston for tonight's #AssistOfTheNight! #DubNation pic.twitter.com/eVb4yFEkOd

— NBA (@NBA) June 1, 2018
👀 the @warriors best buckets from OT as they won the extra frame 17-7 to take Game 1! #DubNation #NBAFinals pic.twitter.com/VB2iisdBmT

— NBA (@NBA) June 1, 2018
Draymond 👌👌👌 pic.twitter.com/zILTuqLW9I

— NBA (@NBA) June 1, 2018