US actress Susan Sarandon arrested at migrant separations rally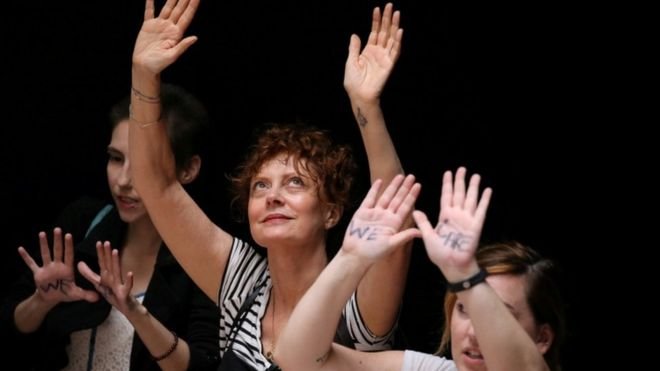 Actress Susan Sarandon says she was one of almost 600 women arrested at a sit-in in support of migrants at a US Senate building.
Police in Washington say 575 people were charged with unlawfully demonstrating on Thursday.
The women were protesting against the government's migration policy and cases of children being separated from their parents on the southern border.
Further protests are scheduled for Saturday.
The actress, who won an Oscar for Dead Man Walking in 1996 and also starred in 1991's Thelma and Louise and The Witches of Eastwick in 1987, announced her arrest on Twitter.
Arrested. Stay strong. Keep fighting. #WomenDisobey

— Susan Sarandon (@SusanSarandon) June 28, 2018
She was previously arrested in 1999 during a protest against a police shooting of an unarmed African American teenager in New York.
READ: Nigeria Railway Corporation MD Fidet Okhiria jailed for contempt
Democratic Representative Pramila Jayapal, who was also detained, described the government policy on child migration as cruel.
Footage from the demonstration showed women chanting "we care", in reference to First Lady Melania Trump's controversial decision to wear a jacket bearing the words "I really don't care do u?" during a visit to a migrant child detention centre in Texas.
Many also carried banners with the hashtag #FamiliesBelongTogether.
Last week, President Donald Trump bowed to public pressure and signed an executive order promising to "keep families together" in migrant detention centres.
But critics said the order would not address the issue of families already separated, with 2,342 children taken from their parents between 5 May and 9 June alone.