Boko Haram kills six Nigerian soldiers in Sasawa village raid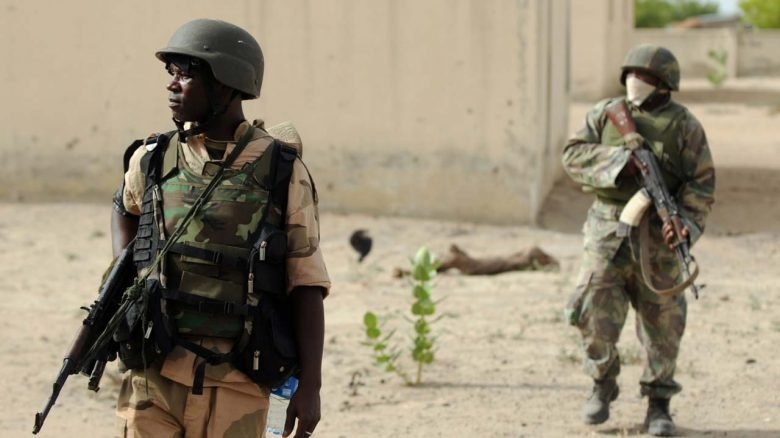 At least six soldiers were killed in heavy fighting when Boko Haram raided a military base and looted food from villagers in northeast Nigeria, the military and locals said on Wednesday.
Jihadists in six pick-up trucks stormed the base in Sasawa village, some 45 kilometres (28 miles) from the Yobe state capital, Damaturu, at about 5:00 pm on Tuesday.
Colonel Kayode Ogunsanya told AFP from Damaturu: "There was an attack by Boko Haram terrorists on a military location in Sasawa village which led to casualties on both sides."
He gave no further details but a local chief in the area said: "Six soldiers died in the attack along with several Boko Haram fighters.
"Heavy fighting broke out and continued till midnight," he said on condition of anonymity for fear of reprisals.
"When the gunmen realised they would be subdued, they sent for reinforcements and more fighters arrived in three trucks."
They overran the base, forcing the soldiers to withdraw.
Rebel fighters then moved into the village, which had been deserted by residents to escape the fighting.
Another local resident, Aisami Gremah, supported the chief's account.
READ: Wanted: 11 million doctors, nurses, teachers to save Africa – UN
He added: "They (Boko Haram) loaded grains from the recent harvest into the pick-up trucks and moved towards Kareto and Magumeri in neighbouring Borno state."
Crops that had been left out to dry on farms outside nearby Tungushe village were set on fire, he said.
Boko Haram attacks on military bases were a frequent tactic as the group gained in size and strength, using the weapons and ammunition seized to capture swathes of territory in the northeast in 2013 and 2014.
But such attacks and hit-and-run raids on remote villages have drastically reduced in Yobe state since the start of a military counter-offensive in early 2015, which the government maintains has left the jihadists a spent force.
Sporadic attacks are still a feature of the conflict, which has claimed at least 20,000 lives and made more than 2.6 million homeless since 2009.
In February the jihadists attacked the same military base in Sasawa, killing two civilians.
In August, two livestock traders were killed and three others were seriously wounded after they triggered a landmine as they fled a Boko Haram ambush.
In Borno state, civilians remain vulnerable from suicide attacks: on Sunday, 14 people were killed in a triple bomb attack in the state capital, Maiduguri.
There has also been a spate of attacks against the military since the end of the rainy season in September.
On October 18, at least three soldiers were killed when Boko Haram fighters ambushed a military convoy near the Borno town of Damboa.
On October 13, one soldier was killed and nine others were wounded in an attack on a military base in the town of Marte, near the shores of Lake Chad.