Hurricane Maria leaves Puerto Rico in blackout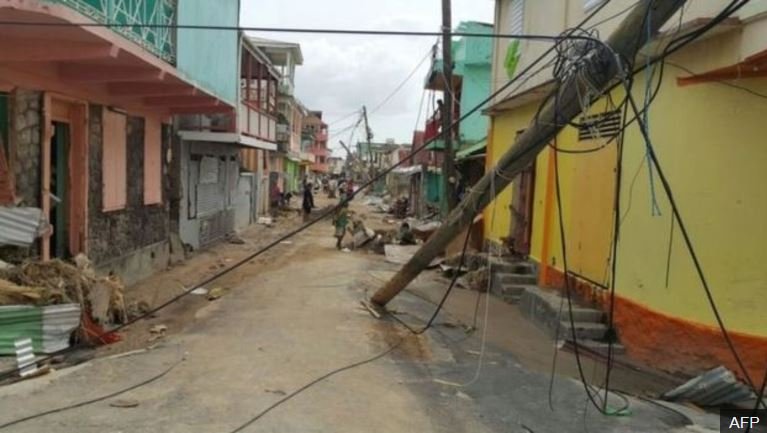 Hurricane Maria has knocked out power across the island of Puerto Rico, home to 3.5m people, officials have said.
Abner Gómez, head of the disaster management agency, said none of the customers of Puerto Rico's Electric Power Authority had any electricity.
The US National Hurricane Center said "catastrophic" flooding was sweeping parts of the island.
Puerto Rico Governor Ricardo Rossello said one fatality had been reported so far, a man struck by flying debris.
Maria, weakened to a category two storm, is moving away from the US territory and heading towards the Dominican Republic.
"When we are able to go outside, we are going to find our island destroyed," Mr Gómez was quoted as saying by the El Nuevo Dia newspaper.
READ: Keystone Bank launches SMART number for customers
"It's a system that has destroyed everything in its path."
Those who emerged from their homes in San Juan after the storm's passing found streets strewn with debris, fallen power lines and shredded trees.
Mr Rossello issued a curfew for 18:00 local time (22:00 GMT) on Wednesday evening through early Saturday morning.
The storm has cut a swathe through the Caribbean on its north-westerly trajectory, hitting the small island of Dominica on Monday night where it left at least seven people dead.
Information on the true extent of the damage is taking time to emerge as communications links were severely hit.
It is feared the casualty numbers will rise.
Images from the capital, Roseau, show some streets knee-deep in debris. Footage taken from a plane on Tuesday showed flattened houses and rivers which had burst their banks.
Many buildings have sustained roof damage on the island, which is poorer than many of its Caribbean neighbours.
Puerto Rico has asked President Donald Trump to declare the island a disaster area after the storm unleashed heavy flooding and life-threatening winds.
Governor Rossello said major damage was inevitable, although 500 shelters had been established to protect people.
The US National Hurricane Center (NHC) said Maria was projected to pass north of the Dominican Republic on Thursday and then on to the Turks and Caicos Islands and south-eastern Bahamas.
Images shared on social media show roofs being stripped away as winds as strong as 140 mph (225 km/h) whipped trees and power lines in Puerto Rico's capital city, San Juan.
The US territory is facing $73bn (£53bn) in public debt and the damage left by Maria could exacerbate its financial crisis.
Declaring a disaster means the island could receive more federal assistance in its recovery.
"God is with us; we are stronger than any hurricane," Mr Rossello said. "Together we will rise again."
Maria made landfall in Yabucoa in the east of Puerto Rico early on Wednesday as a category four storm, according to the NHC.
It was the first category four hurricane to directly hit the island since 1932.
Hours earlier, Maria barrelled through the US Virgin Islands' St Croix as a category five storm, sustaining winds of up to 175mph (281km/h).