Grace Mugabe absent from South Africa summit as assault claim lingers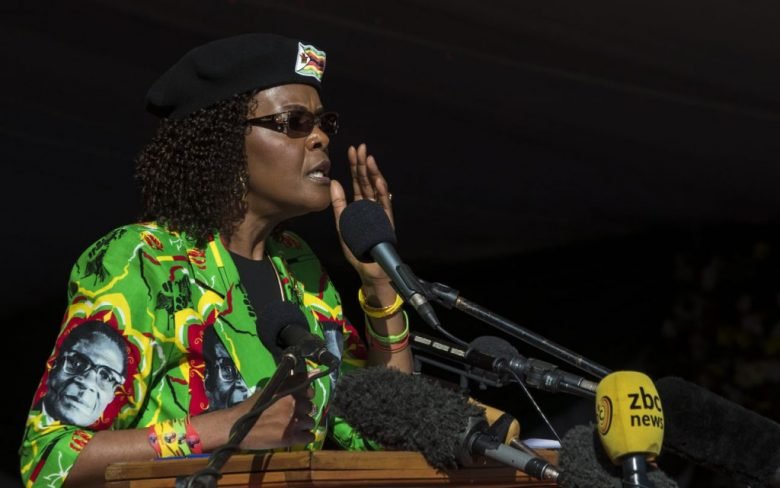 Zimbabwe's first lady Grace Mugabe failed to appear Saturday at a summit in South Africa attended by her husband, an event overshadowed by her effort to obtain diplomatic immunity over assault allegations.
The wife of President Robert Mugabe has not been seen since being accused of attacking a 20-year-old model with a electrical extension cord last weekend in a Johannesburg hotel where the couple's two sons were staying.
The case has become a media spectacle, with protesters gathered outside the summit, some brandishing placards that read "Grace, disgrace."
The alleged assault is a political headache for South Africa and Zimbabwe, close neighbours with deep economic and historical ties.
The matter also appears to have spilled into aviation, with South African Airways abruptly announcing that it was halting flights to and from Zimbabwe in a decision that followed flights being cancelled overnight after a dispute over permits, officials said.
Police had said Grace Mugabe was expected at the two-day Southern African Development Community (SADC) meeting that opened with a "first spouses programme".
But the 52-year-old wife of Zimbabwe's leader was not among the first ladies in reserved seating at the foot of the platform where several heads of state spoke. Her husband, 93, in a black suit and beige scarf, was among eight regional leaders present.
Police on high alert
Neither South Africa's foreign ministry or the police said where the Zimbabwean first lady was, after it emerged that two aircraft were barred from leaving Johannesburg and Harare.
One was owned by Air Zimbabwe, the company regularly used by President Mugabe, and one by South African Airways (SAA).
The first flight could not take off Friday night from Johannesburg International Airport because the airline lacked an "international permit to operate", according to South Africa's civil aviation authority.
The same regulation affected South African Airlines, whose flight SA25 was supposed to leave Harare on Saturday at 7:00 am (0500 GMT), but was grounded before being cancelled.
"In more than 20 years of operations in Zimbabwe, this is the first time we have been asked for this document," SAA spokesman Tlali Tlali told AFP.
After an "emergency meeting" late Saturday, however, the transportation ministry said both Air Zimbabwe and SAA had submitted the required documents, potentially signalling a resumption of flights.
The regional summit's closing ceremony on Sunday was also scheduled to include partners of the heads of state for its 15 member nations.
Mugabe's wife has claimed diplomatic immunity after allegedly assaulting Gabriella Engels nearly a week ago.
South African police have said they are on high alert to prevent her leaving the country, with an arrest warrant also reportedly being considered.
"We are awaiting the outcome of the request," a police spokesman said, referring to Mugabe's effort to obtain diplomatic immunity.
Engels, who has filed a case of assault with intent to do grievous bodily harm, appeared at a press conference on Thursday, wearing a large plaster on her forehead.
Disputed immunity
Lawyers who have taken Engels's case told reporters she was offered cash to make the incident "go away" but she is determined to press charges against the Zimbabwean first lady.
Willie Spies, one of her lawyers, said that if diplomatic immunity was granted they would consider bringing an injunction in court.
Grace Mugabe was in South Africa reportedly to have her ankle treated following a minor accident last month.
Her husband flew to the country late Wednesday, the day after his wife failed to attend an agreed meeting with South African police over the alleged assault.
Zimbabwean officials have declined to comment on the allegations against the first lady or her immunity claim.
Grace and Robert Mugabe's two sons Robert Jr and Chatunga live in Johannesburg, where they have a reputation for partying.
Grace Mugabe regularly speaks at rallies in Zimbabwe and is seen as a potential successor to her increasingly frail husband.