Buhari grateful to Osinbajo for taking charge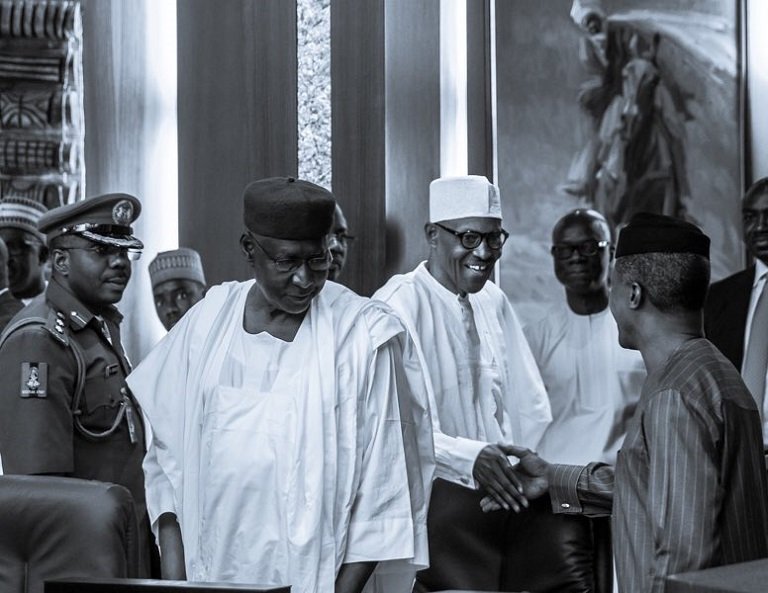 President Muhammadu Buhari says he is grateful to Vice President Prof Yemi Osinbajo for taking charge of the country while he was away in London for medical vacation.
Buhari's statement was in response to Governor Dave Umahi's commendation of Osinbajo at the Council Chambers of the State House, Abuja.
On Friday, President Buhari welcomed Nigerian governors including Governor Umahi of Ebonyi State.
VIDEO: President @MBuhari's Meeting with State Governors this afternoon, at the Council Chambers of the State House. pic.twitter.com/Znrfg5fZTm

— Presidency Nigeria (@NGRPresident) August 25, 2017
While addressing President Buhari and other governors, Umahi said, "As State Governors we have so much to thank you for."
READ: NIGERIA SELLING AGRICULTURE PRODUCE TO BURKINA FASO, CAR – BUHARI
"You have treated all Governors equally, irrespective of party affiliation," he said.
Umahi thanked Buhari for the 2017 budget support, Paris Club refunds and agriculture support. "Without this assistance it would have been difficult for us to cope."
Umahi then said, "In your absence VP Prof Osinbajo demonstrated a very high level of loyalty to #Nigeria and to Mr President."
Responding to Umahi, Buhari said, "Indeed. I'm grateful for the way Vice President @ProfOsinbajo deployed his energy and intellect to take charge while I was away.
President Buhari shares a joke with Governor Okowa
"You're a favorite of the press," President @MBuhari jokes with Delta State Governor Ifeanyi Okowa, today at the State House. pic.twitter.com/1zeP0LZjzT

— Presidency Nigeria (@NGRPresident) August 25, 2017