Ngilari: Convicted former governor's whereabouts unknown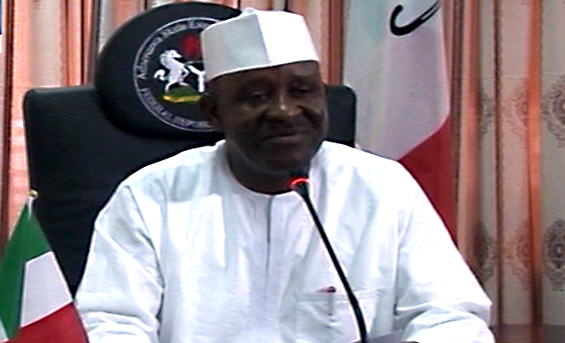 Former governor Bala Ngilari of Adamawa state, convicted and released from prison under controversial circumstances is alleged to be on the run.
This came as the two prison officers in Yola prison allegedly connected in the shoddy deal that masterminded the release of the former governor from jail, Deputy Controller of Prison(DCP) Ababakar Abaka and Superintendent of Prison John Bukar have been suspended and detained in prison.
One report has it that, moment after the High court granted Ngilari bail on Monday, the prison officials took him to the court to signe his bail papers and was immediately taken away to an unknown destination.
Another report alleged that, while the brouhaha over Bala Ngilari's release lingers, he was said to have been driven towards Cameroonian borders, an indication that he might have escaped through the land borders.
An eye witness gave the version that the fleeing former governor was driven to his private residence directly from the court in a big convoy of his, spent few minutes and drove out to an unknown destination.
"Where they were heading to sincerely speaking, we do not know", the eye witness who is an immediate neighbor to Ngilari disclosed.
Meanwhile, Adamawa state Controller of prison, Mr Peter Tenkwa disclosed Wednesday that the two prison officer DCP Abubakar Abakaand SP John Bukar, who allegedly connived to perpetrate the illicit bail deal have been arrested and detained at the Jimeta Prison.
"The controversy surrounding the illegal bail between some of our officers and the high court would be unraveled.
We would leave no stone unturned until the truth prevails and the culprits would definitely face the music squarely,the Controller added
Controller Tenkwa expressed the resolute of the prison authorities to fish out all the culprits involved in the bail saga.