Gambia's Opposition vows to swear-in Barrow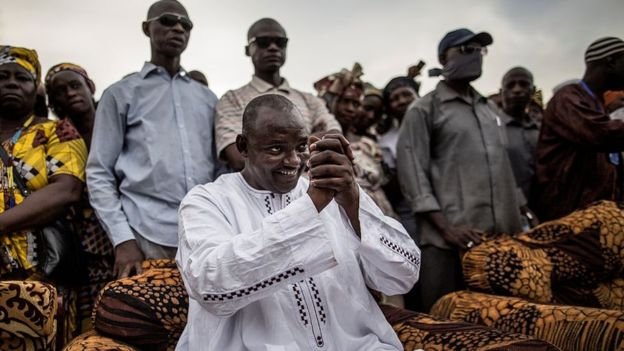 The coalition of opposition in The Gambia has vowed to ensure that president-elect Adama Barrow is sworn-in in January.
The opposition said that Barrow would be sworn-in despite President Yahya Jammeh threat to hold on to power unless the Supreme Court orders him to step down.
Mr Barrow "is confident that he has won an election and he is confident that there is no court on this earth that will deliver judgement to the contrary," opposition spokesman Halifa Sallah told reporters in the capital Banjul.
"We will not speculate on what the court will do … What we are telling the Gambian people is: 'Focus your mind on the fact that president-elect Adama Barrow won an election and he will be inaugurated in January 19." He added
President Jammeh, Africa Review said came to power for 22 years and stunned observers by initially accepting his defeat in the December 1 vote by opposition candidate Barrow, but then flip-flopped a week later, rejecting the results and filing a court challenge.
His stance has stoked international concerns about the future of the tiny west African country, with the UN joining African leaders in calling for him to step down.
"Unless the court decides the case, there will be no inauguration (of Barrow) on the 19 January," Jammeh said in a lengthy television address this week, referring to his petition to the Supreme Court to overturn the election result.
According to Sallah, Jammeh's statement showed he had no intention to relinquish power in January.
He also recalled efforts by the west African bloc ECOWAS — which have also come under fire by Jammeh — to ensure a peaceful transition of power.
Leaders of ECOWAS — including Senegal, which surrounds the landlocked country save its coastal border — said at the weekend they would attend Barrow's inauguration and "take all necessary actions to enforce the results", without spelling out what those measures might be.
Under Jammeh's long rule, The Gambia has remained crushingly poor but enjoyed relative stability — though rights groups and media watchdogs accuse him of cultivating a climate of fear and crushing dissent.